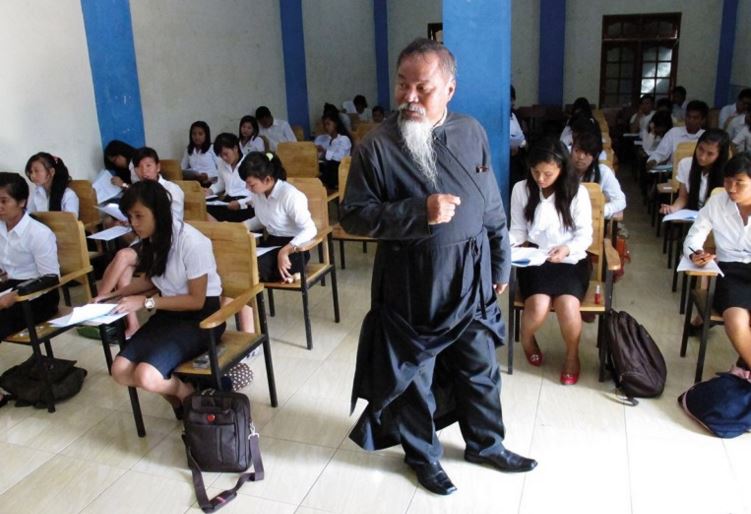 The Saint Paul Orthodox Theological School in Medan, North Sumatra, was founded in 2005. Our aim was, through this School, to spread the light of Orthodoxy, because without the necessary means, it is difficult for us to preach faith in Indonesia. This is why the School of Theology was the basis for the further dissemination of the Orthodox faith.
The School has been accredited by the Government of Indonesia as a Higher Education School. Students have to attend classes for four years. Since the establishment of the School, 1002 students have graduated. These graduates are currently working in various sectors, such as teachers, civil servants, university professors. Not all of the students are Orthodox; some are Roman Catholic, but most of them are Protestants. It is not uncommon for some students to decide to become Orthodox at some point during their studies. Our current students are about 250. In the beginning, the only members of the teaching staff were Father Chrysostomos Manalu and Presbytera Elizabeth. Now there are 5 Orthodox professors.
The contribution of this School is immense. Firstly, it educates young people who prepare to become teachers committed to cultivating a better world. So, prospective teachers have already been in contact with the Orthodox faith and have come to appreciate its beauty and richness, which is something they will pass to the young children as well. Secondly, to us, the Orthodox Christians of Indonesia, it has already offered three fine young men who recently entered the priesthood: Fr. Theodosius, Fr. Luke and Fr. Chariton.
The fact that the Theological School continues its operation uninterrupted is only due to God's blessing. The professors here do not get salaries. Of course, we receive a small amount of money as tuition fees from the students, but this is used for covering the salaries of the School staff, which consists of 6 people. As for us, that is, the professors, we offer our services free of charge because the School has no revenues to cover these costs.
So far, we have had no support either from our Metropolis or from our parishes. Therefore, it is difficult for me to describe how the School is still in operation. It is a continuous miracle.
With God's help ten years have already been completed since its establishment. Over a thousand students have graduated. Our School has begun to offer postgraduate programs, and recently even doctoral degrees.
Glory be to God! This is why we ask for your prayers so that we can continue this work with enthusiasm and eagerness in the name of Jesus Christ.