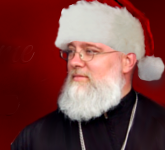 Dear Friends of Journey to Orthodoxy,
Christmas is almost upon us, and the New Year right after that.
You've been doing your work – JTO has been inundated with requests from all over the world from souls who wish to become Orthodox. From right here in the US, to places as far as deep India, Indonesia, Hong Kong, South Africa, Tanzania, Brazil, Mexico, Canada, Great Britain, and more, we are having a hard time keeping up with the requests.
I'm appealing for your help. You know that JTO relies entirely on the gifts and sacrificial donations by our readers. No church organization or foundation helps us. No council of clergy gives support to our work. Would you please consider an end of the year gift to help us help those who yearn for Orthodoxy?
Has your parish distributed all of its outreach for the year? If not, please consider a gift to support our much needed, and much appreciated outreach.
Do you have children or grandchildren? Lead by example, show them that anyone – however humble their circumstances – can support mission work, and give generously to Journey To Orthodoxy to reach those whom nothing else can.
Do you have a loved one who has passed from this life you would like to memorize in mission work? Please consider a ministry with no other recourse for support, but one that reaches deep into the global community, doing more with less than anyone else.
Journey To Orthodoxy needs missionary heroes like YOU.
If you wish to make a gift of property, land, or securities, please contact us HERE.
As always, thank you for your generous, sacrificial support, and do not forget us in your holy prayers.
Thank you for a banner year of outreach. Please help us meet the need, how ever you can.
in Christ our Savior,
Fr. John