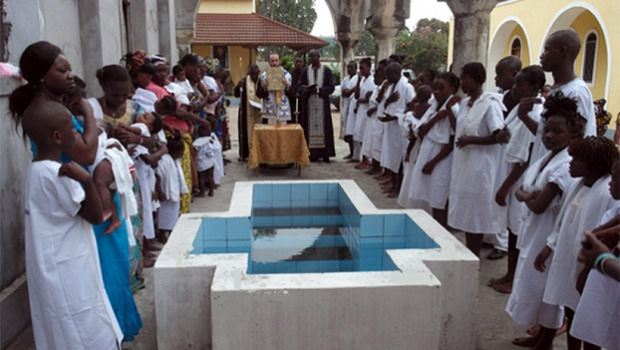 On the morning of 24 December 2014, His Grace Panteleimon Bishop of Congo-Brazzaville and Gabon performed the baptisms of forty-five newly enlightened Congolese of all ages, coming from the three Parish Communities in Pointe-Noire, in the outdoor baptistery in the Holy Cathedral Church of St. Dimitrios, which is under construction in the city.
Addressing the newly baptised brothers and sisters, His Grace interpreted the theological meaning of the Sacrament of Holy Baptism and expressed the joy of the local Church on their enrollment therein, urging them all to become faithful, pious and honourable members of the Church.
Immediately thereafter he departed by air for the capital, Brazzaville, to conduct the midnight Divine Liturgy of Christmas.