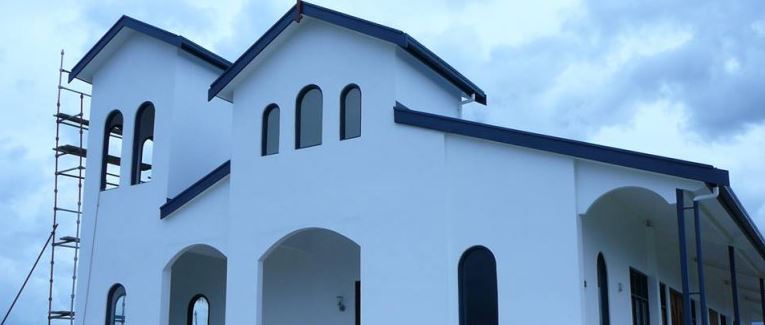 by John Pyrros
Pockets of Melbourne's Greek community are getting behind a fundraiser which will pledge cash donations to the completion of new Greek Orthodox churches in Fiji.
On Sunday Melburnians Stella and John Sofianopoulos will hosted a fundraiser at Ringwood's Nikos Tavern, in the eastern suburbs of Melbourne, aiming to raise $10,000 from an expected 200 guests.
Under the authority of the Holy Archdiocese of New Zealand, the Church's spread into the Pacific came into fruition six years ago, when New Zealand priest Fr Amphilochios of Rhodes acted on his dream of pushing Orthodoxy into neighbouring countries.
The Fijian project, with Agia Triada, along with two other churches (built in former homes), an orphanage and a monastery, are not supported by the Fijian government, but are fully funded by the New Zealand archdiocese and private donations.
The complex is located between Nadi and Lautoka, on the west side of the main island, approximately a 15 minute drive from the airport.
Mrs Sofianopoulos told Neos Kosmos she became involved in the project through her business ventures on the small Pacific nation, which make frequent
trips a given. The family caught onto the establishment four years ago and have devoted time and resources to its build ever since.
"Because I travel a lot to Fiji I became attached to this project and I do all I can of course to help them, we now have built Agia Triada, which is a real [Greek Orthodox] church … but we need to finish the inside," she said.
She hopes the fundraiser will meet the FJD$17,000 (AUD$10,000) required to purchase furniture, the stasithia and the templo, for the church's projected launch in the first months of 2015.
"We thought we'd see what we can do here to help them with their funds, they're lacking funds now and of course Greece is not in a very good position as it used to help as much as it can, and this is when we thought 'OK, let's see what we can do from here'. There's an orphanage, a school where they are teaching children and teenagers to chant in Greek, it is unbelievable."
Church icons will be donated from monasteries in Greece, with wooden carvings being manufactured in Fiji by local craftsmen.
For the time being, local priests are using makeshift tables and chairs to deliver mass which is traditionally held every Sunday, followed by Holy Communion and community activities, including lunch.
As a result of the endeavours of the Orthodox church in Fiji, the island accordingly has 150 converts to the religion, which has grown from the initial 14 or so people when the project was initiated six years ago.
Source: neoskosmos