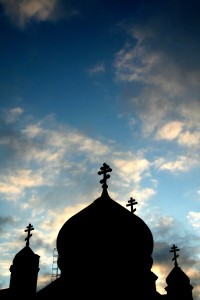 The First Russian Orthodox Church in India soon to be built.
"A decision will be taken soon to begin construction of the Russian Orthodox Church within our cultural centre. This was the most convenient way of reaching an understanding with the (local) authorities, because no major decision, apart from architectural, will be required," Sergey Karmalito, senior counsellor at the Russian embassy, told IANS.
One of the largest of the Eastern Orthodox congregations, the Russian Orthodox Church had launched a parish here in 2011 but has so far operated out of the Russian embassy premises.
"It will be constructed quite soon, and what is required now are the financial inputs for the project from Moscow", Karmalito said.
Pointing out that the decision to construct the church within the cultural centre meant that the necessary approvals required were only architectural in nature, for which the Russian embassy was in touch with concerned civic authorities, Karmalito said:
"The architectural draft will be adopted."
The Russian Centre of Science and Culture, located in the Ferozeshah Road area of central Delhi, has a few high rises in the vicinity and the church blueprint would have to conform to the zonal building regulations. The church will open onto the main road.
"During our previous ambassador's tenure here, the idea was to have it within the Russian embassy premises (in the capital's diplomatic enclave), but that would have created security issues. Now, with an entrance from the main road, the church will be accessible to all," Karmalito said.
Unlocking the key to the kingdom of heaven, so to speak, was necessitated by the increasing number of Russians living in India and the need to provide religious services in the country.
"The Russian community in Delhi, comprising many women who have married Indians, families of diplomats and other families that stay here for part of the year are the inspiration for this church," Karmalito
said.
Some of these families, along with their children, took the confessional from a Russian priest at the midnight Easter mass held at the embassy's White Hall.
The first Russian Orthodox Parish in Delhi, named after the apostle Thomas, was registered in 2006 when Patriarch Kirill, the head of the Russian Orthodox Church (at that time serving as chairman of the Moscow
Patriarchate's department for external church relations), visited India.
The embassy has earlier also considered a proposal for establishing a permanent parish in Goa, where almost 10,000 Russians live for at least six months in a year.
The agenda of last year's Moscow summit talks between President Vladimir Putin and Prime Minister Manmohan Singh reportedly involved discussions on permission to build a Russian Orthodox Church in Delhi as well as on saving Russia's only Hindu temple from demolition threatened by local Moscow authorities.
The International Society for Krishna Consciousness (ISKCON) temple in Moscow had been under the threat of being demolished due to issues relating to land allocation.