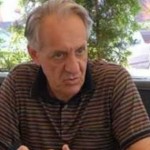 Dr. Mahmud Busatlija, a prominent economist in the capital of Serbia and of noble lineage, who was a Muslim, was baptized Orthodox Christian, according to Serbian sources, 500 years after his ancestors converted to Islam.
"I returned to the roots of my ancestors, 500 years ago, when they became Muslim in the Ottoman Empire. I do not think it strange, as I'm simply returning to where I belong", said Busatlija, who is an expert on foreign investment in Serbia.
He is the progeny of Stanko Crnojevi? (1457–1528) and Kara Mahmud Bušatlija (died 1796). Ivan I Crnojevi?, Stanko's father and the Serbian Orthodox ruler in Montenegro, was the founder of Cetinje Monastery. Stanko became Muslim when his father sent him to the Ottoman Sultan to become a vassal in 1485, and upon his conversion he took the name Skender.
Mahmud Busatlija returned to the Faith of his ancestors, the Serbian Orthodox Church, on February 15, 2014. His baptism took place in the Cathedral of Montenegro and he received the name Stanko.
"My godfather was Metropolitan Amfilohije of Montenegro and the Littoral", he said.
He also said that he is fond of the ideals of the French Revolution and the Paris Commune, ideas which he considers to be similar to that of Christianity – Liberté, Égalité, Fraternité (Liberty, Equality, Fraternity (Brotherhood).