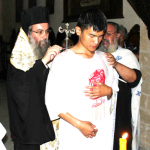 Note the length of his catechism – old ways are sometimes the best ways.
In the Church of the Holy Patriarchal Monastery of Odigitria of Gonia in Kisamos Kolimvari, His Eminence our Metropolitan Mr. Amphilochios officiated the Baptism of a student with a scholarship of the 5th year of medicine, Tsai Chen Wei, a Taoist, originating from Taiwan. The name given to the newly-baptized is Luke after St. Luke, Archbishop of Crimea. Luke got to know Christianity over the last three years and after two years of catechism he became a member of the Church of Christ.
Our Bishop, after expressing his joy for the entry of Luke in the Orthodox faith and our Holy Church, noted:
"The entry of a new, conscious member of the Church of Christ, becomes a source of joy and hope. Luke has been wandering all these years, seeking the Truth and our Christ, who wants 'all men to be saved', led his footsteps to His Holy Church. We are delighted that after two years of catechism he freely and effortlessly decided to embrace Christianity and our Holy Orthodoxy, to join the body of the Church and to become a member of the kingdom of God. The Lord our God lives, and this God, the personal God of History and Revelation, we are all urged to seek and follow, if we want our lives to be restored to their ancient beauty, to stop stinking of death, and to be bathed in the light, joy, hope and life that the faith in the Risen Christ lavishly gives us all."
His Eminence concluded wishing the newly-illumined to become like the great Saint Luke the Physician, whose name he took.