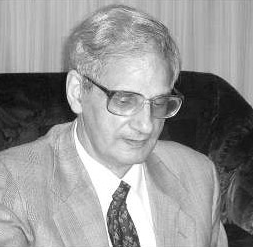 by Peter Davydov
"If someone would have told me thirty years ago that a column on "Orthodox Christianity" would appear in newspapers, that the Church would have an opportunity to openly witness to Christ using the achievements of modern science (no one had even heard about internet then), and that Orthodox magazines would be freely circulated, I would have looked at them as if they were making fun of me and laughed sadly for a long time," Mikhail Chavchavadze smiles.

"But in any case it is joyful to see that life is changing for the better. Actually, it's probably not changing but returning to its foundations…"
The director of the St. Petersburg White Theatre Mikhail Mikhailovich Chavchavadze recalls the past with his characteristic unsinkable humor, but his interviewer can sense that behind this good-natured laughter and smile are hidden years of hard deprivation. Now Mikhail Mikhailovich is the director of a theater famous in both Russia and Europe, but a few decades ago…
"If that Chavchavadze again gives you any sweet rolls, children, bear in mind that he is only doing it to drag you into church! But you, the young pioneers of Vologda, say to him: 'We may be your classmates, but we do not speak to those who are not pioneers!' Their whole family, all their children are very suspect. We do not imprison just anyone in this country. These people are exiles, even though it was in the past. Don't trust them!" That, by the way, is a quote from a talk on "political education" given to the students of Vologda school No. 8 in the early 1950s. "And there were many such talks," says Mikhail Mikhailovich. "And there were a lot of sweet rolls, too! True, the children were more human than the ideology and shared whatever they had with everyone."
Chavchavadze's family really had been "exiles, even though it was in the past." The descendants of Russian refugees from the Revolution and Civil War, they moved to the USSR from Paris just after the end of World War II. They believed the propaganda that no one was being persecuted any more in the Soviet Union. But their return cost the whole family great sorrow—prison, torture, humiliation, and exile. But to the family's honor, neither the parents nor the children ever lost their spirit, were broken, or fell into despondency; to the contrary, they helped everyone around them with all their strength. Despite the constant threats of new persecutions, they were able to retain their honor and dignity.
Mikhail Chavchavadze recalls one episode with particular excitement.
"My [Communist] Party career," he relates, "lasted exactly eight hours! I was accepted into the Young Pioneers, but then the school administration learned that I was a believer. They called me, a thirteen-year-old boy, to the principal's office. There in that office I had what was probably my first conscious experience of persecution. As soon as I entered I was hit by a storm of indecipherable wails, coming from a lady. I remember her eyes, filled with fear and hatred. After I had somewhat regained my composure, I was able to make some sense of her words: Where is He, your God?! Eh?! Where is He! There is no God! Say there is no God and you're free! Where is God?! Show me!" I repent, but alas today I would not be able to answer her with the same words that were born in my head, and even deeper, in my guileless soul: "Well, you say that there is no God, but I see Him in you. There He is—in you!"

The poor, screaming lady's tirade was not only cut short; she froze on the spot with an expression of horror on her face. It was not because of a child's audacity but because, I think, the child's words forced her to admit that God does exist, and upon your relationship to Him depends, not your career or your freedom, but your life. No matter how much you yell, there is a God; and He is more important than anything else.

"Silently shoving a huge stack of antireligious brochures and removing my red pioneer's neck scarf (apparently as a barter), she showed me the door."
Of course there followed more persecutions, harassment in the press (the Vologda papers, Red North and Vologda Komsomol zealously carried out the Party's orders). The matter was not confined to the provincial press. In the central educational journal there was a correspondingly worrying article.
"Then," the director of the White Theater laughs, "my desk was literally piled high with letters from worried girls, future soviet laborers: weavers, cooks, milk maids, and so on, who begged me to "come to my senses before it is too late." As you see, I still haven't "come to my senses!" And I am happy! Now there are more and more people becoming believers. I would like to hope that amongst them are also some of those girls who wrote me those letters; after all, God is in them, too. Probably they have caught a glimpse of Him."
Mikhail Mikhailovich not only loves Vologda; he considers that,
"Russia is strong in its "backwater" provinces. People there are purer and more honest. They knew how to get openly lost, but they also know how to openly admit their mistakes and honestly correct themselves. Perhaps my life in Vologda helped me to truly love its depth, tragedy, but also light and goodness. I think that those healthy spiritual strengths that are preserved in the Russian "provinces" will help this whole country to get back on its feet."