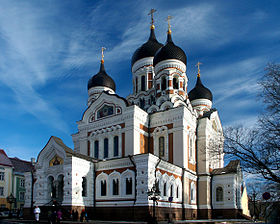 There are more Orthodox Christians than representatives of other religions among residents of Estonia aged 15 and above. 16% of Estonia's population call themselves Orthodox, reports Interfax Religion.
According to the 2011 population and living space census, 10% of the Estonian population consider themselves Lutherans, reported the Department of Statistics on Monday.
At the same time, the Russian-speaking population of Estonia, which makes up about one third of the total population of the country, is more religious than the Estonian. 59% of them consider that they follow a religion, while only 19% of the Estonian-speaking population do so. Overall, 320,827 people (or 29%) aged 15 or over consider that they follow a particular religion. This proportion has not changed since the previous population census held in 2000.
In 2011 there were followers of 90 different religious movements in Estonia. The number of those who refused to answer the questions about religion rose to 14% in comparison with the year 2000.
51% of Belarusians, 50% of Ukrainians, 47% of Russians and 41% of Armenians currently living in Estonia referred to Orthodox Christianity as their religion. 14% of Estonians, 27% of Finns, 15% of Germans and 14% of Latvians consider themselves Lutherans. 47% of Poles and 33% of Lithuanians in Estonia consider themselves Catholics.