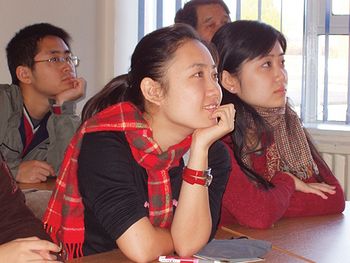 More on Orthodoxy in the Orient!
Teachers from the Department of Theology at Ryazan State University are setting up a program for students from China. The program called "Fundamentals of Russian Spiritual Culture" offers students— future translators—a deeper knowledge of Orthodox culture.
Although the program is an optional course, it has enjoyed unfailing success for more than three years. Knowledge of Church vocabulary and culture is important not only for translators, the lessons also attract the sincere interest of students. The study takes the form of meetings with a priest—the head of the Faculty of Theology at Ryazan State University, an Associate Professor, Master of History, Igumen Luke (Stepanov). Church history, Orthodox teaching, Church life and morality are discussed. Language barriers are overcome by numerous visits to churches and monasteries which consolidate the knowledge gained.
As a result of the search for the necessary educational literature, links with the Orthodox Mission in Shanghai have been established. A concrete result was the photographic exhibition "Orthodoxy in China", reports the website of the Ryazan Metropolia.