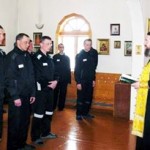 In the penal colony no. 1 of the Russian Management of Federal Service of Execution of Punishments in the Arkhangelsk region (the village of Pirsy) one of the main Church Sacraments, Holy Baptism, was performed. The Church calls Baptism the second birth.
The Baptisms were performed in St. Tryphon's Church, situated on the territory of the colony, by the Rector of the Dependancy of St Artemy of Verkola Monastery, Father Theodosius. Conversion to God is a common thing in the colony because a person who is deprived of freedom–the main thing in everybody's life–seeks not only the path to salvation but also considers his or her actions carefully.
"For me, Baptism is a responsible and well-considered step. I have realized my sins and hope that after release from prison I will be able to start a new life," said one of prisoners.