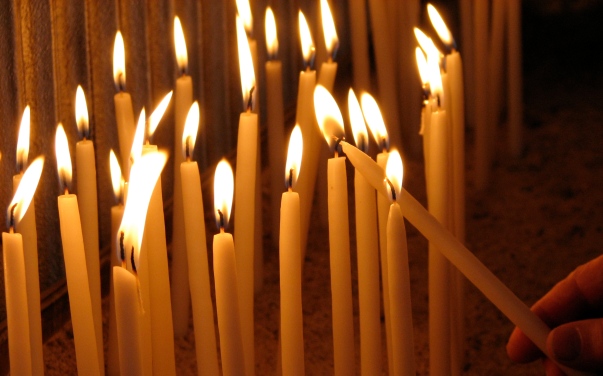 The second Wednesday of Great Lent this year, March 14/27, will mark the 246th anniversary of the falling asleep in the Lord of the ever-memorable Colonel Philip Ludwell III, of Williamsburg, VA, the first documented convert to Orthodoxy in the Americas.
Last year, the First Hierarch of the Russian Church Abroad, His Eminence Hilarion, Metropolitan of Eastern America & New York, gave his blessing for panihidas to be held for Colonel Ludwell on the anniversary of his repose, and it is hoped that even more parishes will do so this year, following their celebration of the Divine Liturgy of the Presanctified Gifts.
Recently, further documents concerning Colonel Ludwell's life and the depth of his Orthodox piety have been found from the archives of the State Historical Museum in St. Petersburg. These include the following petition sent to the Holy Synod of the Russian Church by the Priest Stefan Ivanovsky when Colonel Ludwell brought his daughters from Virginia to London to be received into the Holy Orthodox Church:
?468    
Petitioned 29 March 1761
Heard 17 May 1761
To the Most Holy Ruling Synod of All Russia, Stefan Ivanovsky, priest of the London Graeco-Russian Church most humbly reports:
In 1738, during the incumbency of the late Hieromonk Bartholomew Cassano at this holy Church, an English gentleman named Ludwell [transliterated as ??????? – Lodvel – tr.], born in the American lands and living there in the province of Virginia, came to London seeking the True Faith, WHICH he, with God's help, has swiftly found in the Holy Graeco-Russian Church. And so on the 31st of December of the same year he was confirmed in the same with the holy Chrism. The next year,1739 , he returned to his native land, from whence he, having lived there for twenty years, came back to London last month of September, and brought with him his three daughters, two of whom are eleven years of age, and the third, twenty, who long time ago in America lost their mother, minding to have them united with the Holy Eastern Church here, gaining through this union the one Mother for them and himself. While living in America he translated for them the Catechism of the Orthodox Confession of the Eastern Church, in two parts, from Latin into English, which he taught and enjoined upon them from their very early years. The Greek and Latin book, from which he made his translation, was printed in Lipsia [Leipzig] in 1695, and rendered into Latin by Lawrence Norman [Normann]. The manuscript of this English translation that he brought here with him, I, unworthy, have diligently compared to the Greek and Russian versions. Except the usual corrections, I found no defect in it whatsoever, it being in full agreement with the original. Since his fervent desire is to see that translation in print, he requested that I, unworthy, petition the Most Holy Ruling Synod concerning this, whether the Most Holy Ruling Synod would command that the printing of the said Catechism in the English tongue is done at its most gracious expense, and is then handed out to all sons of the Holy Eastern Church dwelling in London, without charge, for their spiritual nourishment. Or would it give him permission to print it at his own expense, and sell for the cost of printing. He already made enquiries concerning the costs: they are asking a hundred and fifty rubles [approx. £30 – transl.] for two hundred and fifty copies on fine large quarto paper, in good type and generous binding. The cost without binding, paper-bound only, would be seventy five rubles. But I, unworthy, believe the binding is necessary, since every book, whatever its contents be, and especially this one, which is filled with truth, when bound appropriately, commands more respect, and thus is kept longer.
The same man, filled with Orthodox piety, requested that I, unworthy, humbly petition the Most Holy Ruling Synod concerning the future condition of his soul. How should he conduct himself after returning to his home land with his family, what shall he and them do, keep the practice of prayer only at their home, or would they be permitted to go temporarily to an English church, have no church of their own? So that they could offer their Creator some due in public, even thrice a year, thus drawing away from themselves the anger of the local people, since there, and in the whole Province of Virginia, and in the whole of America, except nearby Pennsylvania, any other Religion except Protestant, is forbidden. Besides in his home country still nobody knows about his change of Religion, since he is a councilor in a high position in the King's service.
Concerning the Holy Gifts, he humbly petitions the Most Holy Ruling Synod, whether it would consider it possible to send them from here once a year some Consecrated Holy Gifts, as was practiced by the Early Christians, so that they, having been deprived of this Spiritual Nourishment after their departure from here, should not fall into despair. Since he had no greater concern throughout his twenty years there than the absence of these Divine Gifts, which he oftentimes longed to partake for the strengthening of his faith. And this petition of the selfsame man who is full of pious zeal, which is stemming from his great love for the Holy Church, I, unworthy, make bold to bring for the Most Holy Ruling Synod's compassionate consideration, and humbly beg for a decision that will bring him joy.
[there follows a petition to send to London more Holy Chrism – transl.]
In London, 9 February 1761
May Colonel Ludwell – warrior Phillip's – memory be eternal!