Coming Home
by Fr. John Whiteford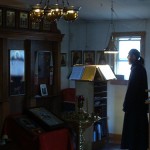 My wife and I stayed in Oklahoma until January of 1992, when I went to Jordanville with the intention of getting a job, getting housing that would be suitable, and then having my wife come to join me, and then I would attend Holy Trinity Seminary there. However, there is a Chinese proverb that says a wise rabbit has three holes, and so at that same time, my wife went back to Houston to get a job there, and we left most of our belongings in Oklahoma. Plan "B" was that if it did not work out in Jordanville, I would join my wife in Houston. We also had the option of returning to Oklahoma.
In Jordanville, I got to see the monastic life and live its rhythms, I learned a lot about the services, and I also experienced true culture shock for the first time – and it was a double whammy. In the monastery, I was surrounded by Russian and Slavonic. There was a lot about Russian culture and Orthodox etiquette that I had to learn. And then when I would travel to town, I was surrounded by Yankees. I was not much of a country music fan, but I had to buy some country records while up there.
However, after a few months it became clear that I had picked the wrong time of year to go looking for work in upstate New York, and the economy was such that I was doubtful that spring or summer would be much better. Holy Trinity Seminary was a great deal for a single student – you could basically work off your tuition, room and board. But there wasn't much in the way of housing for married students, and nothing that was available or would likely be available any time soon. So toward the end of Lent, I decided that we had to revert to Plan "B". I continued to take correspondence courses from Jordanville, but I was disappointed that I could not remain there.
My wife had found a good job in Houston, and had started attending the Russian parish in Houston, St. Vladimir. Unlike St. Benedict in Oklahoma, this parish was not a convert parish. Most of the services were in Slavonic (which is sort of like King James Russian), and most of the people there were either from Russia, or their parents were from Russia or Ukraine. My Chinese wife stood out among the congregation, and did not immediately feel welcomed – with the exceptions of the priest, Fr. George Lardas, his family, and also the elderly choir director, Anastasia Titov – who told her that she was a fellow compatriot, because she was a "white Chinese", who was a Russian from Harbin, China. We later learned that she had worked as a clerical assistant to St. John of Shanghai.
When I joined her, we began attending the Saturday evening Vigil, and there were a handful of elderly Russians (including Anastasia) who had been "holding down the fort" at the kliros, but when they saw that my wife and I were attending regularly, it was as if they said
"Lord, now lettest Thou Thy servant depart in peace,"
and from then on we were normally the choir… which meant that I had to memorize the tones and learn the rubrics. We had been in the choir at St. Benedict's, but being in the choir and following along is quite different from doing it on your own. I also had to learn how to read the Russian in the Jordanville liturgical calendar, because they didn't have any rubric guides in English, and we had to learn to sing in Slavonic (though I never became very good at singing hymns that were not done regularly).
Fr. George Lardas agreed to mentor me, and we would meet on Saturday afternoon and he would teach me Slavonic, and the Typikon. Fr. George literally is a rocket scientist (he worked for a NASA contractor, at the time), in addition to being a linguistic and liturgical genius, and so most of what I know about the Typikon I learned from him, and from the on the job training of the kliros.
I was tonsured a reader in 1994, which was also the year that my first daughter (Elizabeth) was born, as well as the year that I first had access to the Internet, and the year that we were able to attend the glorification of St. John of Shanghai in San Francisco. I was ordained a deacon on March 4th, 1995, by Bishop Hilarion (now Metropolitan), and served at St. Vladimir until 1998. It was difficult to be in a situation where the services were mostly in Slavonic (though the vigils were mostly in English, except on major feasts), but the experience of being in a very Russian parish taught me a great deal about Orthodox piety. I especially learned from the older people, like Anastasia that had such a deep personal piety, and had so much wisdom and experience.
There are many aspects of Orthodox piety that are subtle, and not the sort of thing you are likely to read about in a book on Orthodoxy, and it is these subtleties that a convert can pick up from being around those who are more deeply rooted in the Faith. One example of this was at the Vigil of the feast of the Dormition. We were singing the sticheron of the feast, which is sung after Psalm 50, and we were singing it in Slavonic. My Slavonic being far more limited, I was not emphasizing the right words, and so since there is a long prayer immediately after this hymn, Anastasia Titov took the opportunity of the pause in singing to explain to me the meaning of the hymn in order to explain what words should be emphasized. She then did an on the fly translation from Slavonic into English which was remarkably accurate (which I knew because I had the Festal Menaion in English opened to this text, and was glancing over at it as she explained. As she read the words of the hymn, and got to the part in which it says
"And Peter cried aloud to thee, weeping: "O Virgin, I behold thee clearly stretched out, the life of all, and I am amazed, for in thy body the Delight of the life to come, made His abode! O all-pure one, earnestly entreat thy Son and God, that thy flock be saved unharmed,""
she read it with such warmth and piety that I was almost moved to tears. Her point was that the awe of St. Peter should be reflected in how we sing the hymn, but in making her point she expressed a love and reverence for God, the saints, and the services in a way that a book cannot. My ability to sing that hymn in Slavonic had not improved, but my ability to appreciate hymns on a spiritual level had. I was fortunate to have had such instructors.
Some converts actually try to adopt the ethnic identity of whatever Orthodox Jurisdiction they convert into, sometimes with comical results. I was never under any illusions that I could become a Russian, nor did I have any great desire to do so. Once I had a conversation with Fr. Damian (of blessed memory) who was the abbot of the Monastery of the Glorious Ascension in  Resaca, Georgia. We had discussed a convert who was from a particular state, who had said that converts in the Russian Church should try to become Russian. The next day, he reminded me of that conversation, and said (with his aristocratic North Carolinian accent that those who knew him well remember)
"I am grateful to the Russians for bringing us the Faith, but I am a southern white man, and I am happy with that. However, if I was from [the state this convert was from], I think I would want to be a Russian too."
On the other hand, Orthodoxy does not exist in some abstract form that is devoid of cultural content. When you embrace Orthodoxy, you do to some extent have to embrace the cultural packaging of the particular expression of the Orthodox Church that you find yourself in. When the Orthodox Faith was brought to the Slavs, they embraced many aspects of the Orthodox Byzantine culture that brought them the Faith. But with time, they in turn made it their own, and a new Orthodox culture developed.
You could go back one step further and talk about the Jewish culture of the Apostles, and the interaction that the Greek converts had with it, which ultimately developed into the Byzantine Greek culture. So while I am not a Russian, nor could I ever become a Russian, my experience of Orthodoxy is Russian, and so I am Russian Orthodox, and love and appreciate the best aspects of Russian culture. Someday, God willing, we will see an American Orthodox culture, but attempts to force that into existence prematurely have met with bad results, and I think this fails to understand how Orthodoxy changes a culture. The Russians did not decide one day that they were going to toss out Greek culture, and concoct a Russian version of it. It happened naturally, as their national Church matured. The American Church has a very long way to go.
However, being Russian Orthodox does not mean that you cannot have the services in a language you understand. There are dozens of different languages in use in the Russian Orthodox Church in Russia alone, not to mention in the Russian Diaspora. English is especially in wide use, and all the services have been translated into English at this point, and so many parishes use English exclusively. And as I saw that so many of the young people who had grown up in St. Vladimir's, stopped coming when they reached their teen years, I could not help but conclude that the lack of English, particularly in the Liturgy, was a large factor.
My Slavonic had reached a point to which I could follow the services in Slavonic without any great difficulty, but I was concerned for my own children. My second daughter was born in 1996 (Catherine), and while my daughters were very young, I knew Slavonic services would not be so much of an issue, but that it would become an issue.
So I was determined that they would be in an English speaking parish long before they reached the point that they would not want to go to Church anymore, because they didn't understand the services. In 1998, Bishop Gabriel (now Archbishop of Canada) gave us a blessing to start an English language mission. Bishop Gabriel had said that he would prefer that we name the parish after a recently glorified saint, and so we selected three names, and asked Fr. Anthony to place them under the Antimins before a liturgy. After the Liturgy, the name that he pulled out was that of St. Jonah of Manchuria – who had been glorified in 1996, and whose photograph Fr. Luke (Murianka) had just recently mailed to us out of the blue (since leaving Jordanville in 1992 I had only communicated with him a handful of times).