by Fr. John Whiteford
Back to Square One
Eventually, it began to dawn on me that I was where I was because I had turned away from God, and so I began to repent. I finally began to again feel a peace and a joy that eventually overcame my depression, and got me out of the spiritual pit that I thought I would never be free from again. I burned all of my occult books, my rather complete collection of the works of Bhagwan Shree Rajneesh, and any other books that I felt were not pleasing to God. I would reach a point where I had overcome the "big sins" in my life, but then God always had more that I hadn't thought of that I began to repent of as well.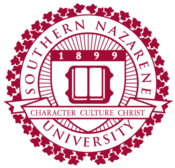 I had a spiritual reawakening, that was very much in line with the tradition I had been raised in. And I began to feel a call to the ministry. In particular, I felt a call to be a missionary, and began making plans to attend Southern Nazarene University, and to major in "Religion" (which in Holiness-Movement-speak was a word the meaning of which could range from "Theology" to "spirituality" (thus the phrases "He got religion" and "give me that old time religion")… it was not a "world religions" program).
They have since changed the name of the program to "Theology and Ministry."
It was during this reawakening that I began to date my future wife, and before I went off to SNU, we were formally engaged to be married, though while I was at school we were separated by a good 500 miles, long distance was much more expensive then, there was no internet, and so we would talk for about 30 minutes a week, and otherwise communicated by letter.