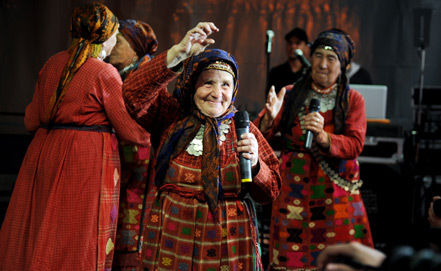 There are as many misconceptions about how to build a church as there are plans to build them. One thing they all require is creativity in solving the needs to do it. The more creative the idea, the more effective they are generally. Here is an inspiration for all of us!
Since the beginning of their stage career the "Buryanovo Babushkas" have managed to gather 6 million rubles ($198,438) which they are using to build a church in their native village of Buryanovo in the Republic of Urdmurtia, Russian Federation, ITAR-TASS reports. The singing grannies made international news last year as second-place winners in the Eurovision contest.
After eleven weeks of construction, the brickwork has been completed, and the roof comes next. The Buryanovo Babushkas have donated all the proceeds from their concerts in order to erect an Orthodox Church, but they have yet to raise enough money for the roof.
Other than the concerts, which no longer bring in the sums they did at the height of their fame, the pensioners also make wool dolls and give them away for charitable donations.
Galina Nicholaevna Koneva, the "authority" among the grannies, admitted that when they began the construction they were pinching every kopeck. This resulted in a very poorly laid foundation, which did not pass muster for President of Urdmurtia Alexander Volkov, who made them start all over again.
"After all, he knows all about building, and he gave us 2.5 million (rubles) right away. Now the foundation is reliable," according to Galina Nicholaevna.
The construction of the church and an addition for choir practice is slated for completion in June of 2013.