by Fr. Martin Watt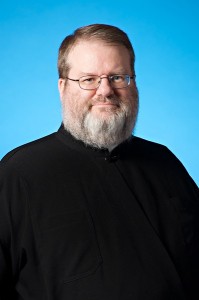 I was born of Methodist and Baptist parents in the mid 1960s.  I was born in Knoxville, Tennessee, but grew up in Jackson, Tennessee, near Memphis.
I was christened in the Methodist Church at birth.  I have the distinct honor of being the only person, to my knowledge, to have failed confirmation class.
When I first went through confirmation class, around age 11, my father who was the Baptist half of my upbringing, wanted to make sure I knew that the decision to be received in the Church was my decision, but that I should be prepared to keep that decision for the remainder of my life.  It was his way of stressing the individual nature of the decision to accept Christ.  I chose to decline the confirmation.  The following year I was received into the Methodist Church. I had the option of being rebaptized, and I chose that option, again being influenced by my father.  I was baptized through the pouring of water on my head.
The following year my mom and dad decided they could best serve Christ in the Baptist Church.  We all went along, and together with my mother I was baptized by immersion, marking my third baptism.  Hopefully one of them "took".
In my early teens I felt a calling toward full-time Church work.  I preached my first sermon at age 15 in a Baptist Church on a lay leadership Sunday.  It was a miserable, but cute, failure.
I started college at Middle Tennessee State University after working at an AM Radio station in my hometown, and aspiring to be a recording engineer.  During my freshman year, I learned that the best recording engineers made below the poverty level.  I quickly determined I needed a new career.  I had a friend who was in his third year of Harvard Law School, and spoke about his interviews for clerk positions.  I was enthralled.
I wrote to a family friend who was a circuit court judge and corporate lawyer, and sought his advice.  He advised taking all the accounting I could, which I did.
During college, I stopped attending Church.  The Baptist Church was in the midst of a split between conservatives and moderates; a split that was quite nasty. I never lost faith but I did lose the connection with Church.
After graduating from college, I was tired of being poor and in school, so I accepted a job offer and began my career instead of pursuing law school.  I got married to my high school sweetheart in 1987, and took a job transfer to the small East Tennessee mountain town of Kingsport in 1989.  Our daughter was born in 1991.
Later that year, I was transferred to Fort Lauderdale, Florida.  My wife and I began suffering culture shock.  In order to alleviate the shock, we decided to seek out the only familiar thing we knew in south Florida and joined a small Baptist mission Church.
We enjoyed the experience, however I began to yearn for a more reverent, worshipful experience.  I began searching for what I would later learn was called "liturgical" worship.  I was also seeking to find out what needed to happen after the salvation experience in the Baptist church.  They offered no framework for growth, nor was growth particularly emphasized.
My brother had lost his hearing in the navy, and we utilized a computer-based communications tool to keep in touch.  This computer system also had discussion roundtables and I joined the Religion and Philosophy roundtable in order to investigate different faiths. I was particularly interested in the way faith was practiced at the personal level, as opposed to doctrinal or "official" levels.
I could not reconcile with the monarchial model of the Catholic church, and both the Episcopal and Lutheran Churches were going through splits similar to the ones that chased me from the Baptist Church.  However, there was a group of four people who made up the Eastern Orthodox roundtable.  They patiently entertained my questions, and were gentle in helping guide me in the way they saw the relationship between faith and life. I had my first experience with Orthodox worship for the feast of the Three Hierarchs, January 30, 1994.
I was blessed to find a group of former evangelicals who had converted some years before. They were able to help me grow toward the faith, as it was a path they has also begun to tread.
My wife, daughter and I were received by chrismation into the Orthodox Faith in October, 1995 after being catechumens for 18 months, at St. John the Evangelist (Antiochian) Church in Memphis, Tennessee.  Soon after the birth of our son Jonathan, we moved to Dayton, Ohio and joined St Paul the Apostle parish (OCA).  After completing the Diaconal Vocations program offered by the Columbus Deanery in 2007, I was ordained to the Diaconate at St Paul Church in Dayton by Archbishop Job of blessed memory in October, 2008.
During this time, I was a healthcare consultant and executive, spending time flying around the country.  Typically I'd leave on Sunday evening and return home Friday evening.  I really began to miss my family, and looked for opportunities for us to be together.
In early 2010, after six years of traveling, I left my career as a healthcare exectuve and began to pursue the Masters of Divinity degree and possible priesthood at St. Tikhon's Seminary.  I chose St Tikhon's because of the richness of the liturgical services as experienced in the monastery church,  I have always felt strongly that the Academic preparation can be attained in many locations, but the liturgical formation so necessary to the Christian life is found most fully in the monastic setting.  St Tikhon's allows me to pursue both goals.
On the feast of the Lord's Transfiguration, 2012, I was ordained to the Holy Priesthood by Archbishop Tikhon in St Tikhon's Monastery Church.
And the story continues…