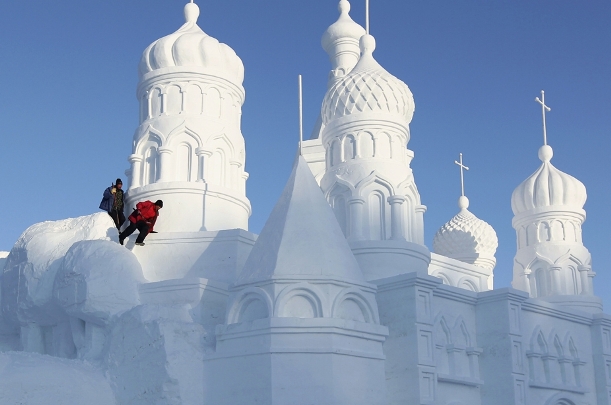 The annual Vasaloppet China Ski Festival at Jingyuetan Park in Changchun, China takes place on January 2nd. It covers an area of 40,000 square meters with a total capacity of 70,000 cubic meters of snow. Through the hands of professionals, the snow is transformed into some of the most famous buildings in Europe. Among them is the amazing Russian-styled Orthodox Church at this years festival, which was still being worked on as of December 24th.
One of the most spectacular winter destinations in the world is near Harbin, China (where the largest Orthodox Church in the Far East is located, named Saint Sophia Orthodox Church) on Sun Island for the Sun Island Snow and Ice Sculptures. It is one of the coldest destinations in China. The festival usually goes from mid-December till mid-January and attracts thousands of tourists.
Below are photos of a church sculpture and the Church of Saint Sophia in Harbin.