by Chris and Randy Shatto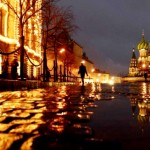 Glory to Jesus Christ! I'd like to start by quoting St. Paul,
"Therefore brethren, stand fast and hold the traditions by which you were taught, whether by word or our epistle" 

2 Thessalonians 2:15
Chris and I weren't really familiar with this scripture when we began our journey to Orthodoxy, but we've since found it to be not only well-preserved, but steadfastly defended, in the Orthodox Church today. 
I met my wife Chris in 1999 and, after about three and a half years of dating, I finally worked up enough nerve to propose to her.  This was also about the time that we began our journey to Orthodoxy.  Chris had been raised in the Roman Catholic Church and I grew up in the Episcopal Church.  Neither of us had been recently active in our respective churches but, with marriage looming in our near future, we began to re-evaluate our spiritual lives.  We agreed that we needed to get God back into our lives and we needed to get back to church.  But which church?
The more Chris and I talked seriously about our faith and what we believed in, the more we began to feel uncomfortable with the changes and the directions that both the Roman Catholic and Episcopal churches were taking.  I always heard that change is inevitable and in many cases a good thing.  However, when it comes to faith, God and the Church, such changes, in our minds, just were not ringing true. So we began to search.
If I my digress for a moment… My mother and father had left the Episcopal church — or as they like to put it, the Episcopal church left them — some years earlier.  They also had gone through a period of searching and questioning before finding and embracing the Orthodox faith.  Over the years and since their conversion to Orthodoxy, my parents and I had numerous intense discussions about the Orthodox faith and how they believed it to be the one, true apostolic faith.  I was skeptical and resisted their invitations to visit Holy Cross.  I suppose in retrospect, this was when the seed was planted in me.  I had just refused to let it grow!
Back to our search… Chris and I visited many different local churches and various Christian denominations and met a lot of really nice people with really good intentions.  But as we delved into the nuts and bolts of the various faiths, we found the common denominator of all of them to be change.  They all seemed to be offering some sort of "new and improved" version of Christianity.  We just didn't see the need to re-write or fix Gods word.  At this point, Chris and I decided that we needed to look backward instead of forward.  Chris's brother had given us a book on world religious denominations.  The book featured a denominational timeline that really caught our attention.  We traced the timeline back to The Great Schism of 1054, when the Roman Catholic Church and the Orthodox Church split.  We were intrigued.  It appeared that the Orthodox Church had indeed been there from the beginning — that is, since the day of Pentecost.  It seemed as though my parents were on to something.  Had they found the one true Church of Jesus Christ?  It was time (finally!) to pay a visit to Holy Cross Orthodox Church.
We started attending the Sunday liturgies at Holy Cross and although they seemed, initially, to be rather unfamiliar or foreign to us, we soon began to feel a sense of comfort and peace.  We felt enveloped in a deep Christian spirituality; surrounded by the many icons, the incense and the singing of the liturgy.  Chris and I were inspired by the reverence and deep respect that the priest and parishioners showed for the Holy Eucharist.  We wanted to learn more about this ancient faith!  We began attending the adult education classes and reading various books about Orthodoxy.  The more we learned about the faith, the more we were convinced that Orthodoxy was what we had been searching for; the one true Catholic and Apostolic Faith; unchanged, steadfast not to the traditions of man, but to the apostolic traditions.
Today, Chris and I feel truly blessed as we continue to grow in faith and spirit as members of the Body of Christ here at Holy Cross.
If you too are searching or if your church has left you, we encourage you to come and join us at Holy Cross and get to know the Orthodox faith.
"Thus says the Lord: 'stand by the roads, and look, and ask for the ancient paths, where the good way is; and walk in it, and find rest for your souls." (Jeremiah 6:16)