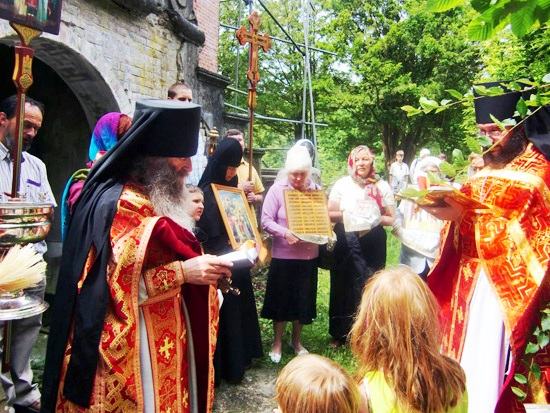 by Serafim Jens Christian Larsen

I want to explain the significance on my spiritual life after I became baptised. Since the time I learned the Truth about Christianity and got to know about orthodoxy, it became my goal to become an orthodox christian, this was what I wanted to become, even I did not know or understand what it meant. But my searching it stopped after I became a baptised Orthodox  Christian. The time in between I had been reading about the faith, attending church services regularly on a monthly basis as a catachumen , I had travelled in Romania and experienced that smell of Orthodoxy that had brought me to faith while on Crete, and I finally I had been received in the Orthodox Church by the Holy anointment, allowing me now to consider myself as an Orthodox christian, in spite of that , the anointment did not bring me a feeling and understanding that I had become an Orthodox. The understanding and knowledge it first followed after I was baptised.
Here are some short explanations of how I feel this change in practicing my spiritual life.
Spending my time as an Orthodox as for an example when reading in the new testament I noticed right from the beginning a difference in the way I was now feeling life energy from reading in the Holy Scriptures. In fact I feel the presence of God in his Holy spirit and this feeling of renewal in body and soul from the moment I start reading, similar to the feeling of renewal after my re-baptism, it is the feeling of being in communion with God and his Holy Spirit. Whenever I feel it is needed, if being tired after a days hard work, or if I am feeling negativity or am darkened in my mind by passions, I know I can always find ways of relief by reading in the Holy Scriptures.
Another example is the new understanding I gained through the baptism, when reading the new testament I am now able to understand passages that before didn't make any sense to me, as if my spiritual eyes has been opened by the re baptism, as for example when St. Paul Gal 2: 20.
"I have been crucified by Christ, it is no longer I who live, but Christ lives in me".
Now I can understand the meaning behind these words by St. Paul in relating to the experiences I get from my own life. Whenever I choose to spend my spare time idle as for example when reading the sports magazines, surfing on the internet, listening to the radio, watching the television I am always left with the feeling of emptiness, the feeling of having wasted my time, with the result of exhaustion and lack of energy . As an Orthodox Christian I experience, that I do not anymore have a place I can "escape" where I can put my soul to find peace or relaxation, except when I seek my life in Christ. Whenever I choose to do otherwise my own "drunkenness" is being disclosed.
I also realized the truth behind the words by Jesus Christ, where ever more than one of you are gathered I am with you. This spending my time together with brothers or sisters in Christ, I feel it brings me meaningfulness, it brings me the feeling of life and joy, of being build up on new in the body of Christ. On the opposite I also encountered how difficult it can be also to spend my time with people outside of the Church, even they are people that I love very much, it is the feeling of being divided compared to the feeling of oneness when I am with brothers and sister in the Church.