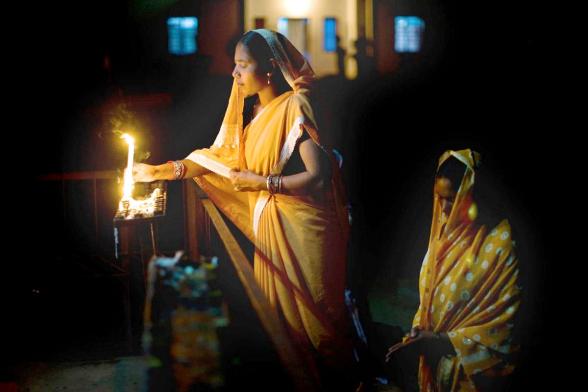 A year after it began to preach from the confines of the Russian embassy in the capital, the Russian Orthodox Church of Russia formally introduced itself to the capital's Christian fold with a brief ceremony this weekend.
The Church, which does not have space to conduct services in the country, has moved the government to acquire land in the capital to build a shrine. The demand was taken up by
Russian Deputy Prime Minister Dmitry Olegovich Rogozin, who was in India earlier this week with a large trade delegation, Manoj Kumar, a spokesperson and a legal advisor to the Church said.
"It will be integrated into the agenda of Russian Premier Valdimir Putin, who is visiting India next month," the spokesperson said.
Russia has given land to ISKCON to build a temple and seeks a reciprocal gesture from India for the Russian Orthodox Church, he added.
The Russian Orthodox Church is one of the biggest of the Eastern Orthodox Churches in the world dating back to 988 AD. After the 1917 Revolution and under the Communist regime, the activities of the Church was controlled and members were persecuted.
But the liberalisation of the Soviet regime in 1988 saw a revival of the Church. The order manages 700 places of worship around the world.
The Russian Orthodox Church in India traces its links to the ancient church of St Thomas in South India.
It has 500 followers in India, Father Grennady Moroz, the head of Russian Orthodox Church in Pakistan, Nepal and India said.
"Many Hindus are keen to convert to the Russian Orthodox Christianity that preaches an ancient version of Christianity as laid down by the apostles," Moroz said.
He said in Pakistan, the Church has 60 members, mostly from the diplomatic missions, and 40 in Nepal. In the capital, 120 members regularly flock to the sermons, he said. The Church was launched with a showcase of Russian musical and ballet at the Russian Cultural Centre.
Addressing the introduction ceremony, senior Congressman Manish Tiwari, one of the several non-Christian friends of the Russian Orthodox Church: said
"Christianity is and remains, in its ever expanding interplay of streams, one of the oldest faiths in India."

"The constitution of India has been a guarantor of religious freedom. This philosophy of 'sarva dharma sambhav' has allowed us to permit the establishment of a constellation of institutions by various religious minorities. This exchange hasn't just enriched the minorities. The osmosis of ideas, universal faith, and cultural renaissance have become India's contribution to the development of the new world order," Tiwari said.
He said
"a befitting Orthodox Church in Delhi, which will engage both Russians and Indians, will be a satisfying milestone in this journey".