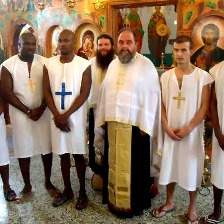 By Alexander Kalliopoulos
After about a year of catechism, five foreign prisoners were baptized Orthodox Christian in the Chapel of Saint Eleutherios in the penitentiary in the industrial area of Patras.
Three were Nigerians, one was a Somali, and the other was Albanian. The catechism of the newly-illumined was done by the leading priest of the prison, Fr. George Chronopoulos, who in recent years has been ministering to our suffering brothers there, along with his tasks of the parish of Saint Nicholas in Sichena.
Fr. Gregory Kordas also participated at the Sacrament of Baptism, parish priest of the Church of St. Barbara in Aktaiou in the Municipality of Patras. The new Christian names given to the prisoners are: Angelo, Nicholas, Andrew, Michael, and George.
The Sacrament took place on Monday 8 October 2012, in the presence of the prison warden, the social workers, and the detention assistants.
It should be noted that those who are baptized Orthodox Christian do not enjoy any privileges, as Fr. George assured, and it was their choice. He also mentioned that from the first day the Albanian prisoner was incarcerated (the man named Angelo who was an atheist), he asked those responsible to meet with him. Finally, the three Nigerians were unbaptized Catholics and the Somalian had recognized the religion of his tribe.
Please pray for our newly illumined brothers!