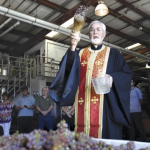 Orthodox priests bless a lot of things, some say 'everything!', but I know Fr. John and thought this a nice story to republish!
Vintners' whole year depends on 2-month harvest season
by Dave Bemis
In a scene that will be repeated thousands of times around the Central Coast over the next two months, a forklift set a big bin of freshly picked grapes onto the concrete floor of the Lucas & Lewellen Winery.
To celebrate the beginning of the harvest and to honor the work that's been required to reach this point in the growing season, the winery in Buellton held a brief but solemn "Blessing of the Grapes" ceremony at noon Wednesday, mixed with light-hearted comments, a toast and an informal lunch.
"We really need this blessing,"
said Louis Lucas, drawing chuckles from the group of about two dozen assembled employees and guests.
"This is my 39th harvest in Santa Barbara County," said Lucas, co-owner of the winery with Royce Lewellen. "It's the beginning of a journey that lasts about 60 days. … We pray that the weather's good, the grapes are plentiful, and everybody works hard."

"I come here to give these grapes to God, and to give the whole harvest to God,"
said the Rev. John David Finley as he opened the short service that included prayer, song and the sprinkling of holy water on crates full of grapes as well as the people attending.
"In a lean year, we'll say 'God is good' and we'll increase our dependence on him, and in an abundant year, we'll say 'God is good, and let's see who we can help,'" Finley added.
In August, the Santa Barbara County Vintners' Association reported that, after two years of low yields caused by unseasonable weather, vineyards from Santa Maria to Lompoc to the Santa Ynez Valley were showing evidence of a return to normal quantities of grapes on the vines.
That, matched with the promise of good-quality fruit and significant improvement in the market for local grapes, has vintners optimistic, the association noted.
After the blessing, Lucas expressed a mixture of excitement and anxiety with so much depending on the harvest over the next two months.
"Yields are good, but nothing's ripening," Lucas said. "It's the constant monitoring" that keeps things tense before the harvest can begin and even after it's underway."
With Lucas & Lewellen growing about two dozen varieties of grapes, each ripening at a different rate, vineyard employees need to watch carefully to determine which ones are ready to pick first and which ones need to wait.
Lucas said his crews had just begun harvesting gewurtztraminer grapes Wednesday and planned to start picking sauvignon blanc on Friday, followed by pinot grigio and other varieties as they ripen.
The days and weeks leading up to harvest are full of testing, Lucas noted, not just for sugar and pH levels but also for the condition of skins and seeds and even the shape of the vines' leaf canopies, which must shield the grapes from the sun.
Right now, he said, "we're really looking at the seeds and skins," which have to reach the right stage of maturity to provide the proper color, tannins, enzymes and other qualities for red wines.
Working with the varieties of grapes the company grows and harvests, winemaker Megan McGrath Gates makes 50 different wines that are sold under three different labels — Lucas & Lewellen, Queen of Hearts and Toccata. The company has adopted the Toccata name and dropped its Mandolino label because of a legal challenge from another winery with a similar name, Gates noted.
Before lunch began, Lucas led the group in a toast with the company's 2008 Brut sparkling wine, which won three separate Gold Medal and Best of Class awards this year at the Central Coast Wine Competition, the Orange County Wine Competition, and the California State Fair Wine Competition.
Gates noted with a smile that she makes all the company's wine except that award-winning 2008 Brut. It was made by shipping the company's grapes to Mendocino, where there is specialized equipment that's needed to make sparkling wine.
"Here's to the harvest," Lucas toasted.