The explosive growth of Orthodoxy in Guatemala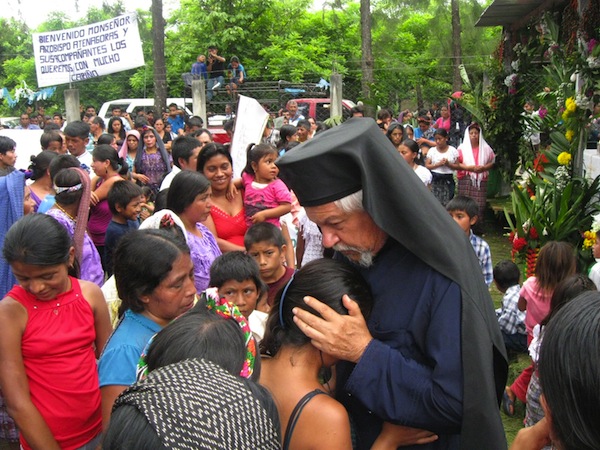 Whenever someone speaks of "American Orthodoxy," there is usually an unspoken understanding that the term refers to North American Orthodoxy: the United States, Canada, and sometimes Mexico. This way of speaking is indeed convenient, considering that the majority of Orthodox parishes in the Western Hemisphere are still located in North America. However, in the past few years a great change has occurred in Latin America that makes it increasingly inaccurate to focus on North America as the western outpost of Orthodoxy. Just two years ago, in 2010, the Orthodox Church received a large group of Guatemalan converts numbering in the hundreds of thousands. Now Guatemala, and possibly all of Latin America, holds tremendous promise of becoming fertile ground for the Orthodox Christian Church.
The seed of Orthodoxy in Guatemala was planted by the nuns of the Hogar Rafael Ayau, an Orthodox orphanage in Guatemala City. Many people are familiar with the incredible work of Mother Inés, Mother Ivonne, and Mother María. In fact, just this year a group of seminarians from St. Vladimir's Seminary traveled with the seminary Chancellor/CEO Archpriest Chad Hatfield to see the work of the nuns and to assist at the orphanage. It is through these nuns that the Guatemalan soil was first prepared for the Orthodox Church.
Now, with the recent chrismation of a new group of Guatemalan converts that numbers between 100,000 and 200,000, the Orthodox Church is ready to blossom in Guatemala. The magnitude of the event cannot be overstated. Almost overnight, Guatemala has become the most Orthodox country in the Western Hemisphere (by percentage of national population). Furthermore, the Orthodox communities in Guatemala continue to grow rapidly and attract attention throughout Guatemala. There is still, however, little information available to the broader Orthodox world on the history and character of these new communities. For this reason, I traveled to Guatemala this summer, spending two months visiting many of the Orthodox parishes, meeting the leaders of the communities, and accompanying the bishop of the Guatemalan Church—His Eminence, Metropolitan Athenagoras—as he made his historic first visit to the new parishes in Guatemala. I returned to the United States with the desire to share what I saw and the conviction that the Holy Spirit is at work with power in Latin America…