By John Darling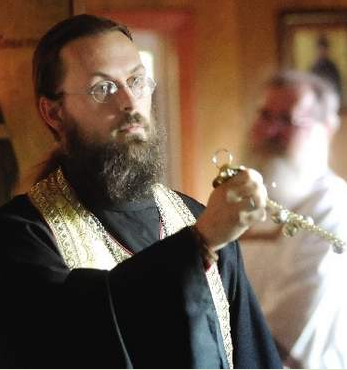 Bursting the seams of its tiny church inside the Newman Center next to Southern Oregon University, the 45 members of Archangel Gabriel Orthodox Church are welcoming their new priest, Rev. Andreas Blom — and promising to do Christian services as close as possible to how the apostles did it 2,000 years ago.
A native of Sweden and a former evangelical missionary, the bearded Blom speaks perfect English, wears a floor-length black cassock all day, every day, and conducts services in the old tradition where parishioners light candles, sing almost everything, do a brief and private confession, stand up for everything except the sermon, and behold an altar of gilt-painted saints and divine figures.
The Orthodox path models itself on what's found in the Acts of the Apostles, seeking a "spiritual life in Christ, with the Bible as part of that testimony," he says, but does not dabble in culture wars about gay marriage, abortion and other hot-button issues.
"We have a sense of what's morally right and wrong, and does it bleed into the political life at times? Yes, but (Orthodoxy) predates the cultural wars, and on some issues is perceived as liberal and on others as very conservative," he said.
Blom, 37, came to America in 1996 to work for Youth With a Mission of Colorado Springs, serving in India and China.
He met his wife, Theodora, a fellow missionary in India — and both discovered that conventional Protestantism was not answering big questions, such as who has the authority to interpret Scripture, what is free will, what is the sovereignty of God, and what is salvation, he notes.
"Being missionaries was hard work, and we had very little to give to God. We were exhausted," he says. "We discovered the (fourth-century) prayers of St. Basil, and they lifted and liberated us. We saw these (early saints) had a much deeper relationship with God. Their prayers were so life-giving, and we entered into their prayers."
While Orthodox congregations do follow old, prescribed traditions, "it's not a club for the holy and righteous, where everyone has to fit in. Its purpose is not social reform or the moralizing of society. It is, in a sense, a spiritual hospital," he notes.
"We're all struggling, not just psychologically, but on a deep, spiritual level. Everyone, including me, is a struggling sinner. This is a place where you receive grace, the means and the way of continuing in that struggle."
The sacrament of confession, which is given behind a screen with a witness, is where you speak, not to the priest but to God, about
"what's weighing on your heart. I confess as well. You get forgiveness and accountability for your life, thoughts and words, a place to express your pain. It's not a courtroom where you're let off the hook and are innocent. You expose the festering wounds of the soul and ask for the grace of God."
Orthodox Christianity stems from the first century after Christ and, having been created by members who were Jews, it follows a lot of Jewish tradition, says Blom, adding that Orthodoxy has no women priests and performs marriages only between a man and a woman.
While Blom says he can foresee a splinter church eventually embracing such changes, the main church "has a 2,000-year tradition and does not change lightly."
Blom succeeds Rev. Isaac Skidmore, who led the church for 12 years, branching out to receive a master's degree in psychology from Southern Oregon University and now working on his doctorate at Pacifica Graduate Institute in Santa Barbara, Calif. He is attached as a priest to the New Enunciation Orthodox Church in Milwaukie, near Portland.
In his tenure, says Skidmore,
"the church has gained a sense of depth and identity and a sense of its heart as a healthy community."
Blom lauded him for his
"loving care of a real spiritual father."
The church, at the corner of Ashland Street and Elkader, has begun the process of considering a larger home. It holds vespers at 6 p.m. Wednesdays and Saturdays, and liturgy at 7 p.m. Thursday and 9 a.m. Sunday.
More information available at: www.stgabrielashland.org.