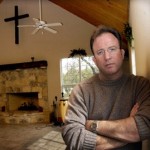 by Gordon Atkinson, pastor of Covenant Baptist Church in San Antonio, TX
Sunday I went back to Saint Anthony the Great. Jeanene and the girls did other things, which was fine with me because I was wanting to keep my thoughts tuned to my experience and prayer. I love my children, but when they are with me there is always a piece of me that is keeping tabs on them.
I was so excited too. Really very happy to be there and hopeful that perhaps the Eternal Creator might have something for his imperfect child to learn that day. Saint Anthony the Great has a coffee and conversation hour after the service, so I planned to stay for that as well.
The first week I was very interested in the candles that the faithful lit and put in boxes of sand near several of the icons. These were little tapered candles that burned down, conveniently, about the time the service was over. I asked the greeter if I might light a candle. She was surprised and seemed very happy.
"Yes, of course," she said.
She told me that the candles represented the light of Christ coming into the world. I feel that piece of faith is held in common with our church as well. We light candles for the same reason. I took my candle down front and prayed that I would be open to hearing from the Spirit of God during worship. I placed my candle with the others lit by various pilgrims at worship. For the entire service I kept an eye on my candle as it burned softly until it was only a tiny stub.
This week I decided not to spend any of my energy trying to keep up with the service in the liturgy book. Instead I wanted to watch everything and hear as much as I could. I found that I was able to follow the chants much better with only one week's experience under my belt. I fell in love with the sound of them. Various readers have different tones and particular styles. Everyone calls the pastor "Father" at Saint Anthony the Great. Father's voice came singing out from behind the Iconostas during the service. His voice is very resonant, and he has his own particular way of ending a phrase.
There is a step down in tone and then – just at the end – he lets the tone trail off even further. Dum dum dum dum dooooooo…eeee. I am easily hypnotized by repetitive and interesting sounds. Once in college I was driven to a state of absolute peace by the sound of a woman cutting thick paper with a heavy set of scissors. SniiiiiiiiiUP. I closed my books and sat there with my head in my hands until she finished whatever she was doing. I felt like I'd had a full massage. I think a lot of my peace on Sunday came from the simple fact that I didn't have to understand everything. I was not the minister or anyone with a burden of comprehending the whole. I was one of God's little ragamuffins, a kid who wandered in from the street. No one expected much of me, and I felt God would be pleased if I just stood quietly and enjoyed the sounds and the beauty while being mindful of God's presence.
This week I noticed people sitting down during the homily. A number of people dropped to the ground like the crowds around Jesus. I sat down with them, and let me tell you that after standing for an hour, a seat on the floor is more comforting and comfortable than the softest lounge chair in the world. Ahh, the floor. A chance to rest my back before the push to the end of the service. Blissful.
And then it was over. It seemed much too soon. I was a bit surprised that almost 2 hours had passed. I sat at the back and watched everyone file forward to greet Father, who hugged people and chatted. I got to wander around and look more closely at some of the icons too. Stunningly beautiful.
During coffee hour I had a delightful chat with an enthusiastic woman named Tina, who became an Orthodox Christian 15 years earlier. She knew a lot of church history. It was nice chatting with her. Some others came to say hello as well. In time it came out that I am a Baptist minister on sabbatical, which was surprising for them. But just for a moment. Everyone has a story about how they arrived at Saint Anthony the Great.
That was my story.  And it was okay.