by Dania Kanella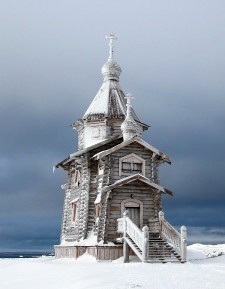 Since its founding, Christianity has managed to spread to the whole world, from the biggest cities of the world to the vast jungles of Africa. Christians worship God everywhere, from huge cathedrals to remote, small churches on mountain tops and modest chapels in their neighborhoods. But who could ever imagine that at the "end of the world," in the vast, inhospitable reaches of Antarctica, there is one of the most remote orthodox churches in the world.
The church of Holy Trinity is located on King George Island in the South Pole. It was built in 1990 entirely by Siberian wood and its design is influenced by the Russian architectural style.
It can host up to 30 people. Due to the extreme weather conditions of the region, including strong winds, heavy snowfalls and rainfalls, special provisions were made to maintain the security of the people and the building.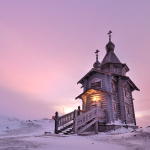 The trunks are stabilized with strong chains and a special investment protects the inside of the temple from the rain.
According to its priest the existence of an Orthodox church in such a remote place shows perfectly that "God is everywhere." Until now two Russian Orthodox couples have celebrated their weddings at Holy Trinity believing that this will bring them good luck.