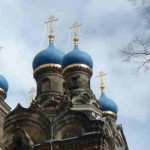 This story is not new, but it was new to me. Thank you to our German readers for bringing it to my attention.
The Russian Orthodox Church has described as an historic event the construction of Orthodox St. George Monastery at the distance of 80 kilometers from Berlin on the territory of former East Germany.
The significance of the event lies in the fact that it will be the first monastery of the Moscow Patriarchate in East Germany and the second Orthodox monastery in Germany as a whole. Here is more from Father Superior of the would-be monastery Hegumenos Daniel.
The idea of building a monastery emerged several years ago. Yet an opportunity of materializing it appeared only recently, and to a large extent owing to the blessing of the Holy Synod and spiritual support of the Moscow Patriarchate. This will be the second monastery of the Russian Orthodox Church in Germany, there is already St. Job of Pochaevo Monastery in Munich. It was opened in the late 1940s. At present a monastery of St. George is being built who is the heaven patron of Russian rulers and Russian warriors. The monastery is meant to be the place for spiritual and cultural communication of Germans and Russians. We expect not only German Christians but Christians of Western Europe as a whole to visit our monastery.
The monastery will be situated in a picturesque place—on the bank of the Kolpino Lake in one of small cities in the Brandenburg land. Before Germany's reunification there was a hospital for Soviet servicemen there. In 2006 the Berlin-Germany Orthodox Diocese bought the place for a symbolic price of 1 Euro and got down to preparations for the reconstruction of old buildings and their re-equipment so that they could serve as monastic cells, library, refectory and other premises necessary for the monastery.
Today the Berlin-German Diocese of the Russian Orthodox Church has over 60 parishes with the number of parishioners of over 800. With every passing year this figure is growing not only for Germany but for Western Europe as a whole. Here is more from a representative of the Moscow Patriarchate, nun Theodora.
Orthodox community in Western Europe is huge at present. It comprises numerous emigrants from Russia, Ukraine, Moldavia and Belorussia. All those people went abroad in search of job or for a permanent residence, they all form and actively attend Russian Orthodox parishes in Western Europe; so, the number of the Orthodox there is the greatest today.
According to nun Theodora construction of another Orthodox monastery is a good sign. On the one hand, this proves that interest in Russia is growing, on the other—-this will consolidate positions of the Russian Orthodox Church in the world.