I suspect we are going to see many more solutions like this. After all, Jesus was a carpenter! This man built his own jewel of a church… out of a garden SHED
Perhaps Father Stephen Weston took inspiration from the fact that Jesus was the son of a carpenter when he built Britain's smallest church in his back garden.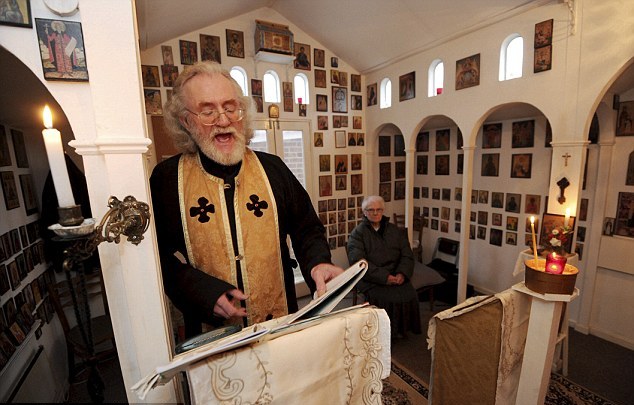 Father Weston, 63, constructed St Fursey's Orthodox Church in Norfolk with just an A-level in woodwork, earned 14 years ago, to his name. The byzantine arches of the wooden shed, which is 18ft by 13ft wide, has become a local landmark in the middle of Father Weston's housing estate. St Fursey's is so small the holy processions carried out during each service only take worshippers ten steps along and two steps across.
There is no room to sit and after services the congregation step through a door into the priest's living room for a cup of coffee. But the Antiochian Orthodox church – very similar to the Greek Orthodox but English speaking – is an official place of worship after it was blessed by a bishop. The regular congregation at the church has now grown to seven, including two pensioners and their walking frames, which means Father Weston now needs to upsize.
The clergyman said:
'When we do a Saturday liturgy we've had 18 people in the church and it really is a bit of a crush. We would like to see our congregation grow, a large part of orthodox services are sung not said and in bigger orthodox churches that is led by a choir and the congregation join in.

'At St Fursey's it not an option, everybody is in the choir and everybody is in the congregation.'
Father Weston served as an Anglican priest with the Church of England for 20 years before he became disillusioned with its ideals at the age of 50.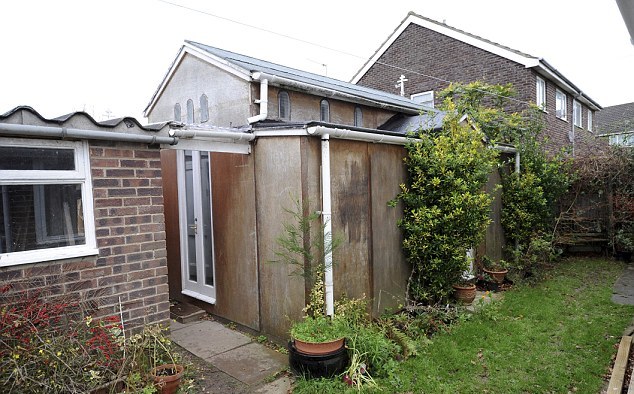 He says he was upset with the direction the Anglican Church was heading and admitted the ordination of women to the priesthood was 'the straw that broke the camel's back'.
Stephen switched to the Orthodox Church and short of an English-speaking venue, decided to build his own in the village of Sutton, Norfolk, in 1998. A team of volunteers took just over six months to complete the structure complete at a cost of just £5,000 and started worshipping there while it was still a building site.
The church does not need to be consecrated because it is legally considered a private chapel. However, it has been blessed by a bishop from the Orthodox church, making it an official place of worship. Father Weston was ordained by the Orthodox church in May last year, in a ceremony in Paris.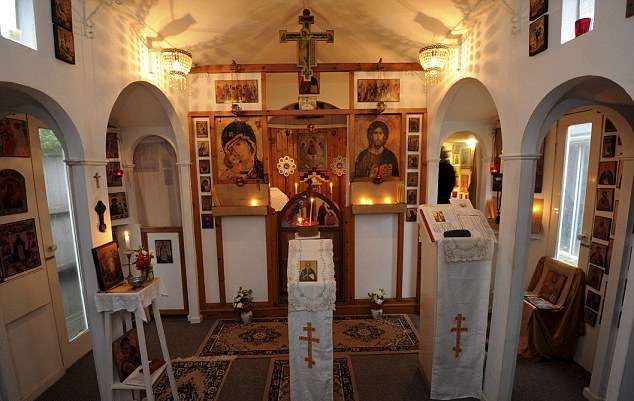 He has already said he will be happy to pick up his tools and build another shed if that is the only option for getting hold of a bigger church in the neighbouring village of Stalham.
Father Weston said:
'Very likely people thought I was mad when I was building St Fursey's.

'I remember my next door neighbour sticking his head out of his window and asking what I was doing in the garden.

'I told him and he said "Oh great you can build a whole cathedral back there if you like".

'Although we love our little church it is very tucked away, we need another place of worship that is more public so that people can find us.'
St Fursey's is understood to be the smallest working church in Britain.
Both the Church of England and Catholic church, in Britain, were unable to name a smaller church. Bremilhan church in Wiltshire is known to be the smallest church in the country, at 13ft by 11ft, however services are only held there once a year.