The Journey of Fr. John Wehling
by Sharon Dargay
Spiritually speaking, the Rev. John Wehling has spent most of his 43 years searching for a home.
He found it eight years ago in the Orthodox priesthood, a calling that brought the married, father of three and his family to Livonia in July.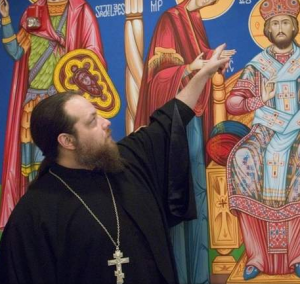 Wehling will celebrate his first Christmas as pastor of Holy Transfiguration Orthodox Church this Sunday, Dec. 25, amid incense and icons, in a markedly different way than he did as a Methodist minister just 12 years ago.
The Orthodox liturgy won't look or sound like anything he experienced as an evangelical teenager, growing up in a Southern Baptist home.
"In some ways, the liturgy is very traditional. Some people call it formal, but I don't like that word because it sounds stodgy,"
Wehling said.
"You feel very much at home in the liturgy. But there's a real sense of reverence and holiness, so that you're not too comfortable. We do believe the Eucharist is the body and blood of Christ. You feel the presence of God. You really are conscious of the presence of God."
Byzantine-style icons painted in eye-popping colors on the walls, ceiling and around the altar, visually maintain that presence and remind parishioners of their communion with the saints. Christ is everywhere in the Biblical scenes that adorn the church. Church fathers and mothers, prophets and apostles, line the nave walls.
"There's a very strong sense in the Orthodox church, that the church on earth is united with the church in heaven. When an Orthodox Christian stands in church and you're surrounded by icons, you have a real visual sense that you are praying to the Lord with all those who have gone before you. In Hebrews, it talks about how we have to run the race and cross the finish line to the kingdom of God. We're in the stadium surrounded by the witnesses who are cheering us on."
Long journey
When Wehling started running his own spiritual marathon, friends rather than saints, witnessed his faith transformation.
"I grew up in a small town called Towanda, just 20 miles outside of Wichita. I was raised Southern Baptist and I started going to the Methodist church while I was in high school. We didn't have a lot of kids in the Baptist church I was attending and most of my friends went to the Methodist church."
As a teenager he got involved in the charismatic movement and learned about missionaries who smuggled Bibles into Russia. It was the kind of life he envisioned for himself, but his pastor counseled him to pursue college first.
He entered Central College, a small Christian school, where he met Anne Marie Edwards, an evangelical Christian and a Royal Oak native who grew up in Holly. They married during their sophomore year in 1989, had their first child a year and a half later and then moved to Kentucky where Wehling entered the seminary. After seminary he returned to Kansas to pastor a Free Methodist Church. He stayed in the job for four years.
"It was at that time I began to read about the ancient church. I was frustrated and there were a lot of reasons. But I was disaffected by certain things. In the evangelical church as a whole, there was an emphasis on church growth almost like marketing the church. Worship services were becoming more like rock concerts. I was put off by these sorts of things and at the same time I was reading the writings of the church fathers. The more I explored, I had to choose. I was really drawn to the Orthodox tradition.

"I was smitten by the Orthodox church and I couldn't very well become Orthodox and be a Protestant pastor."
A new faith
Wehling said his wife also was moving toward Orthodoxy, but at a much slower pace. She questioned his plan to quit his job, leave his faith and move the family to Spring Arbor where they would attend an Orthodox church and he would look for a job.
"If you're an evangelical and you come into this church and they are swinging a censer and lighting candles and the priest is making the sign of the cross and they are singing everything they say, it's strange. But once she began to explore it, she was sold. You know, if I went home today and said, I decided to do something else, she'd say 'Have fun. I'm Orthodox and I'm not leaving.'"
A year after the family settled in Michigan, an Orthodox bishop suggested Wehling enter Orthodox seminary. He completed his studies in Pennsylvania and was ordained in 2003. He pastored a small church in Green Bay, Wisc., for eight years, before transferring to Holy Transfiguration Orthodox Church after its longtime pastor, the Rev. Michael Matsko retired in June.
Since his arrival he has officiated at two weddings, two baptisms, a funeral and recently welcomed new converts to the faith. His homilies are delivered with preparation but without notes or talking points.
"Everything is new. Everything is a first for me right now, these feasts and fasting seasons,"
Wehling said.
"And it's new for these folks. The priest before me, Fr. Michael, has really done all the work. I'm just stepping in."