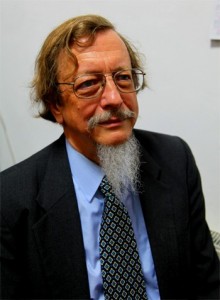 Dr. Engelhardt was born in Texas to Roman Catholic parents, but became Orthodox in his mature years, taking the name Herman after St. Herman of Alaska. He studied philosophy and medicine and is now a professor at two Universities in Houston, Texas. His research has been done mainly in Bioethics and his most important contribution to Orthodox ethics is his book "The Foundations of Christian Bioethics". At the Symposium for Intensive Care organized in Bucharest, Professor of Philosophy and Medicine Tristram Engelhardt presented a paper. During a discussion in Bucharest, a question was put forward on how he became Orthodox. His reply is published below transcribed directly from a recording and translated [to Greek] by Anastasios Philippides.
How I became Orthodox? The answer is: only through the love of God. Once I went to Mount Athos and one monk told me:
"Look around you at all these people. The repentance of all these people is a miracle from God."
I had very devout Roman Catholic parents who sent me to a very good Roman Catholic school, and in the fifth grade I was reading the history of the Church and I realized that the Church of the first five centuries I had never seen before. And I asked a nun:
"Why isn't the Roman Catholic Church like the early Church?"
The sister looked at me like I was crazy. And since I was in fifth grade I stayed quiet. Elementary School seemed very boring, but I liked the Mass. And I was an altar boy which I really liked. Since I was lazy, when I went to the sanctuary I didn't go to school. I liked it more, being an altar boy in church. In the eighth grade, in 1954, a Roman Catholic priest told me that a Uniate bishop would be coming from Palestine and that he was to perform the Liturgy of St. John Chrysostom. I did not know it and had to read it to become the altar boy for the Liturgy. And I did this. But I did not know that there was a Matins before this, and for one and a half hours I could not understand what was happening. And then this old Bishop came to me and told me:
"Come here, this is for you. All true Christianity will disappear in the course of your life from the West. True Christianity will come from the East and this will be very important for you."
I thought he was crazy. I told him:
"What?"
And he said:
"All Christianity would disappear from the West during your life. True Christianity will come as light from the East."
I asked my father:
"What is he saying? Is he a crazy man from Palestine?"
And I continued to live my life. In 1984 someone called me from the man who had come second in the last election to become Pope of Rome. Since he was a candidate for Pope he had to start early, like a presidential candidate of the USA. And picking a group of intellectuals to help him in his campaign, he asked me to become one of them. And they asked me to go for six weeks to Milan. I told them I cannot go for six weeks I am very busy. But then my second daughter, whom if I can say is crazy like me (the first is 38 years old and has four children), on Christmas tells me:
"Can I come with you to Milan?"
And how can a father tell his fourteen year old daughter no, so I said "OK". The person on the phone told me that he would pay for expenses. And so I worked a lot with Martini, this candidate. And I understood for the first time in my life that the entire Christianity of the West was the creation of Germans and a few Swiss who had made the Reformation. In 1988 I was invited to the Institute of Higher Learning in Berlin and when invited to speak there I felt like a whore realizing that what I was doing was wrong. I prayed:
"My God, if there is any true religion, show it to me and I will switch."
And for the first time in my life I had this experience, that in my mind I felt a fear that I had not ever felt before. Within a week, we saw several commercials for a Christian music concert, since we went to them. We're from the South where it is very hot and we were afraid to stay in Berlin for Christmas where we would freeze. We wondered where to go for now so as not to freeze during the Christmas holiday, and I arranged to give lectures at the University of Istanbul, at the Marmara University. And we went there for Christmas. So on Christmas day my wife said:
"Where can we go for Mass?"
And I said:
"Let's go to the Greek one."
And we went to the Phanar. It was the first Orthodox Liturgy that I followed. Patriarch Demetrios was there. My second daughter touched me and told me:
"Father this is the true religion, is it not? And I said: 'I'm afraid you have a point, because it is very poor."
And we went back to Texas and began to ask if a Texan can become Orthodox. Someone who was a Baptist from Texas told me:
"If I can become one, you can also become one."
And so with the patience of God I first became one and afterward both my daughters. And then my wife, who is Irish, who are very passionate papists, who has two stories about her conversion. The one is when she said:
"Bless me Saint Patrick, I am returning home",
and another she wrote was:
"From Rome to Home".
I thank God!