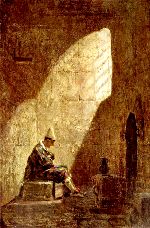 by the Tregarthen Family
Our conversion to Orthodoxy began in about 1997, when my wife met Tristram Englehardt, Jr. at a conference…
He was there because of his position in the Department of Philosophy at Baylor. Tris is also a surgeon and a member of the medical school faculty at Baylor. In addition to all that, he is a tonsured reader in his church. He spoke at length about Orthodoxy with my wife and sent her a great deal of reading material. I became interested in Orthodoxy as a result of conversations with my wife about her talks with Tris.
I met him at a later conference.
Tim Tregarthen
On the Sunday before Ash Wednesday in the Episcopal church to which we belonged, we decided to drive by the Orthodox Church on our way home from the service at St. Francis of Assisi.
When we drove up to the church, people were leaving the Fellowship Hall. We went in and met Fr. Anthony. He answered several questions that we had about Orthodoxy and invited us to the service Wednesday, which would be the first Wednesday in Great Lent. Fr. Anthony took us upstairs to see the church. I am in a wheelchair so I went around the parking lot to the front door of the church.
There was a step going into the church, so I was unable to enter. Fr. Anthony assured us that the church had a ramp.
My wife Suzanna and I attended the service Wednesday. Sure enough, there was a ramp. It turned out that the ramp that the church had had been "liberated" by neighborhood children for use with their skateboards. On the off chance that we would attend, Fr. Anthony had built one.
That, along with the service itself, impressed us a great deal. The entire service at the Orthodox Church is sung, and the beauty of the service is awesome. We took our children (Doran, age 13 and Brittany, age 12) to Vespers the following Saturday. We weren't sure that Brittany would be able to tolerate the incense, and we had no idea how Doran would react.
Brittany was fine with the incense. As we left the church, I turned to ask Doran how he felt about the service. Before I could get the words out, he said
"That's the way people should worship."
We began attending Ss. Constantine and Helen for Saturday night Vespers, Divine Liturgy on Sunday, and Vespers and adult education on Wednesdays. The adult education was for people new to Orthodoxy, so it was perfect for us.
I will never forget the first class, in which several members of the church spoke about their experience with Orthodoxy. Ted Brinegar said something that impressed me greatly:
"The Church doesn't need you; you need the Church."
Mary Duncan also spoke about the importance of attending as many services as possible.
Our family became Catechumens after a few weeks and were baptized in June of that year. I think that it is no exaggeration to say that Orthodoxy has saved my spiritual life. It has been a truly wonderful experience. In large part, that is the result of the worship itself. But it is far more than that.
The entire Orthodox experience of fasting, confession, and regular attendance is an enormously rich one.
I have belonged to many churches with close-knit congregations, but I have never experienced any as close-knit and devoted as the one at Ss. Constantine and Helen.