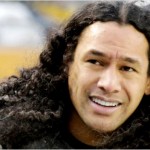 Steelers safety Troy Polamalu opened his red leather-bound playbook to a dog-eared page.
"The life of a man hangs by a hair," he began reading in a voice as soft as falling snow. "At every step our life hangs in the balance."
It was three days before the Steelers' A.F.C. divisional playoff game against the Baltimore Ravens, a matchup in which the Super Bowl aspirations of two worthy contenders hang in the balance, and Polamalu was getting himself centered.
"How many millions of people woke up in the morning, never to see the evening?" Polamalu read. And then: "The life of a man is a dream. In a dream, one sees things that do not exist; he might see that he is crowned a king, but when he wakes up, he sees that in reality he is just a pauper."
The book in Polamalu's hands, "Counsels From the Holy Mountain," guides him in football and in life. It contains the letters and homilies of a Greek Orthodox monk, Elder Ephraim, whom Polamalu described as his spiritual doctor.
Polamalu, 29, sought out the octogenarian monk, who resides in a monastery in southern Arizona, a few years ago, a meeting that led Polamalu to the place he described as "heaven on earth." It is a summit of sorts. But not the Super Bowl, though Polamalu won two championship rings in his first seven seasons with the Steelers. Neither of those journeys shaped him as profoundly as the pilgrimage he made to Mount Athos, a Greek Orthodox spiritual center in Greece.
While there, Polamalu said he witnessed humility and sacrifice in its deepest, purest forms and realized that for all their obvious differences, the spiritual path shared much with a Super Bowl journey.
"Both require great discipline," Polamalu said, "and a selflessness in the name of a greater good."
A pacifist whose tough play epitomizes his violent sport, Polamalu is the anchor of both the Pittsburgh defense and its locker room. In a vote this season of the players, Polamalu was voted the team's most valuable player, becoming the first safety since Donnie Shell in 1980 to be so honored.
"Obviously, in a lot of respects it's a big deal," Polamalu said, adding: "I've never been a fan of individual awards because football is such a team sport. There's so many things that goes into making plays. It's about teammates trusting one another and working together."
Asked whom he voted for, Polamalu said linebacker James Harrison.
"Nobody does what he does," Polamalu said.
While Harrison, who amassed $100,000 in league fines this season for dangerous hits, appreciated Polamalu's sentiments, he said,
"Troy could be voted our M.V.P. every year."
In the Steelers' 41-9 win at Cleveland on Jan. 2, which clinched a first-round playoff bye, Polamalu was back in the starting lineup after missing two games with an Achilles' heel injury.
It didn't take him long to get his legs back. On the second play from scrimmage, Polamalu picked off a Colt McCoy pass for his seventh interception, tying a career high. On a goal-line play at the start of the second quarter, he leaped over the line of scrimmage and was in McCoy's face before he had time to cock his throwing arm.
The play was reminiscent of one in the second week at Tennessee that resulted in a Polamalu sack of Titans quarterback Kerry Collins.
Dick LeBeau, the Steelers' defensive coordinator, noted that Polamalu did not sack McCoy, who managed to get off a pass that fell incomplete.
"We prefer that he not go that far off the diving board," LeBeau said.
Polamalu knows his freedom to roam has its limits.
"When you do go a little bit off the map, you have to make sure you make the play," he said. "If you don't, it's your fault."
The Steelers' rubber match this week against Baltimore — the teams split their regular season games — features two of the league's best defensive backs in Polamalu, a six-time Pro Bowl pick, and the Ravens' Ed Reed, who had an N.F.L.-leading eight interceptions in 10 games.
Both are deserving candidates of the league's defensive player of the year award, though, naturally, that is not the way Polamalu sees it.
"I think I'd rather go with him," Polamalu said, "given that he's played in five games and has like 22 interceptions."
The quotation was pure Polamalu. If he is overstating someone's abilities, you know he's not talking about himself.
Against the Ravens in the 2009 A.F.C. championship game, Polamalu stepped in front of a Joe Flacco pass intended for Derrick Mason and returned the ball 40 yards for the score that gave the Steelers a cushion at 23-14. Players from both teams — Harrison and the Ravens' Terrell Suggs quickly come to mind — have been vocal about how deep the rancor runs in this rivalry.
Polamalu said:
"I don't feel that way. There are things that are deeper than football rivalries to me."
Polamalu was asked if he wished he could use his pulpit to address subjects other than football.
"I'd rather not talk at all, to be honest with you," he said.
Much has been made of Polamalu's dual persona. Receiver Hines Ward described him Wednesday as
"Clark Kent who goes into his phone booth on Sundays and comes out Superman."
Off the field one sees the same dichotomy. Around the news media, Polamalu comes out of his shell and turns into the Jim Lehrer of the N.F.L. The least likely player to court the cameras is Polamalu, the Steelers' most contemplative speaker.
After the Cleveland game, Polamalu was the last player to leave the visiting locker room. He emptied the contents of his locker into a black knapsack, fingering some of the items as if seeing them for the first time.
In the back of his locker was an 8-by-10 photo of Elder Ephraim with chin hair longer and fuller than the Rip Van Winkle beard that Steelers defensive end Brett Keisel has been growing all season. Polamalu slid the picture into a manila envelope, then carefully tucked it into his bag.
He kissed the three-inch framed photos of the Virgin Mary and Jesus, then crossed himself, repeating the sequence several times before tucking them into his backpack.
On his way out, Polamalu was stopped by a radio reporter. As a team official anxiously shouted into his cellphone,
"Hold the Cranberry bus for Troy,"
Polamalu serenely sat for a five-minute interview.
"At times when we need a little guidance, he's the guy we go to," Harrison said, adding, "Troy's a lot deeper than a lot of people who actually preach the word."
At the monastery in southern Arizona, the monks practice joyful mourning. Led by Polamalu, the Steelers engage daily in cheerful discomfort. They suffer together with the goal of celebrating as one on the first Sunday in February.