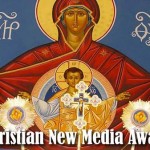 Thanks to everyone who voted and made "Journey To Orthodoxy" the winner of the "Best Domestic Blog" Award given by the Eastern Christian New Media Awards.
Since coming online 7 months ago, JTO has provided a variety of stories and articles for inquirers to the Orthodox faith, with plans to expand JTO in 2011, offering articles on mission and evangelism, a support network for clergy, and a Spanish language mirror site. You can support JTO now (click here) and receive a unique gift as a special thank you!
To our faithful subscribers and supporters – thank you for supporting the work and mission of Journey To Orthodoxy.
We would also like to acknowledge Schole, the blog of our friend, Fr. James Coles, one of the biggest supporters of  Journey To Orthodoxy. Though JTO actually kind of defies categorization for the ECMedia Awards, Fr. James' blog is a true and outstanding example of a domestic blog.
We also wish to thank Fr. Hans Jacobse, who helped create the site, and congratulate him on his own award-winning site "American Orthodox Institute" which won for "Best Group Blog," and indeed it is.
Finally, to everyone who votes, supports and sponsors the Eastern Christian Media Awards, thank you!