by Rita Sullivan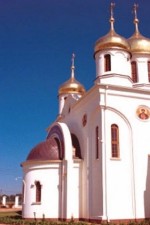 My name is Margarita. I am a member of the Russian Orthodox Parish of St Sergius of Radonezh, in Johannesburg, South Africa. I am not Russian. I was born 49 years ago, with a German/Dutch mother and an Irish/Afrikaner father. I was raised Protestant.
Thirteen years ago, I was introduced to Daniel Steyn and Fr Jonathan Proctor who told me about the Orthodox Church in America and how thousands of Protestants and Campus Crusade Members converted to Orthodoxy. What really touched my heart was the love shown by this two people.
They gave me books to read about Orthodoxy. This opened a World to me I did not even know existed. Slowly, slowly I grew more interested. Daniel gave me an Afrikaans prayer book plus an icon of Jesus Christ. I started a daily prayer routine, got to know the Theotokos, my Angel, and the Saints.
Two years later, I attended my first Orthodox Easter Service at St Nicholas, Johannesburg.
When I entered the Church, and looked at the icon of the Mother of God, I saw her looking directly at me, consoling me, loving me, and reassuring me. It truly shocked me, a Protestant, to have such an experience, but it was so beautiful I could not resist her! For the first time in my life, I was in a real Church, with real candles, real incense, real music, and real kind, loving people kissing everything in Church they could lay their eyes on.
After that Easter 12 years ago, I really flung myself in God's ocean of mercy, learning more and more, and five years ago I finally became Orthodox. Orthodoxy is the only way to God and the joy of my life. I love my family of St Sergius, and even though I am not Russian, I am one of them.
Thank You, God!