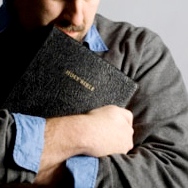 by James Early
Reading
What really caught my attention about this book was the fact that it was not just about Protestants converting to Orthodoxy, nor even just about evangelicals converting. I had heard stories before about both of these types of conversions occurring. What amazed me was that the book was about a group of leaders of Campus Crusade for Christ converting.
For those of you who have never heard of Crusade, it is an evangelical organization primarily devoted to evangelizing college students.
Campus Crusade was an organization that nearly all evangelicals, myself included, held in high esteem; its workers we practically viewed as saints. They ranked right up there with missionaries and martyrs in the evangelical "hall of fame."So now I was being told that not only did Orthodoxy inspire great loyalty among the Serbs and Eastern Europeans, but it also attracted some of the most dedicated evangelical Christians in the world. Needless to say, I had to find out why these high ranking leaders of an esteemed evangelical ministry, along with two thousand of their followers, found so persuasive about the ancient faith.
The book, of course is Becoming Orthodox, by Fr. Peter Gillquist. It is a quick, easy read, and the story it narrates is gripping. I read the book in one day. After I finished it, I remember thinking,
"Well, Gillquist raises some interesting points, but I need to do some further research."
I was not able to reject his arguments outright, but neither could I immediately accept them.
So, I called Melanie and asked her if she had any other books.
Sure enough, she did; this book was called Common Ground, by Fr. Jordan Bajis. Whereas reading Fr. Gillquist's book was like nibbling on an hors d'oeuvre, reading Fr. Bajis's book was like consuming a hearty meal. In Common Ground, Fr. Bajis makes a very persuasive case for infant baptism. He also convincingly demonstrates that the evangelical method of interpreting Scripture comes not from the Bible itself, nor from the first century Church, but from sixteenth-century religious humanism.
One by one, the doctrines that I had believed since I first began to follow Jesus, including Sola Scriptura, justification by faith alone, believer's baptism, non-sacramental theology, and the idea that the Bible alone is a valid source of spiritual authority, began to fall.
(Note: The reader may be wondering exactly what the authors said that I found so persuasive. At this time, I will not go into much detail about this. Rather, I plan to write a completely different series on the Orthodox view of key evangelical Protestant distinctives in the future)
After reading Common Ground, I decided to reread Becoming Orthodox. I did so even quicker than I had read it the first time. After my second reading, I thought,
"You know, I think that Fr. Gillquist is absolutely right. I think that I have been mistaken about a lot of key theological issues."
That evening, I said to Jennifer,
"You know what? I think that we might be in the wrong church!"
Saint James
At roughly the same time that I began reading about Orthodoxy, a couple of other things happened that helped nudge me in the direction of the Ancient Faith. I have already written about the first of these in an earlier post, so I ask you to forgive me for the repetition.
One of the things that I did while in Banja Luka was to lead an intensive Bible study on the book of Acts for a couple of members of the Baptist church. One day, the day on which we were to study the Jerusalem Council in Acts 15, only one of my students was able to come. He was a very devout young man whom I shall call David. Of all of my Serb friends in Banja Luka, David was the one that I felt the closest to.
In Acts 15, we see the Apostles and the other leaders of the Church gathered to discuss a criticial issue which had arisen as a result of St. Paul's first missionary journey. The problem before them was, in essence: Did Gentiles converting to Christianity have to first become Jews, or could they be received directly into Christianity, without first being circumcised or submitting to the full Old Testament Law? As David and I were studying the text, we noticed that after the council discussed the issue at hand, St. James said,
"Simon [i.e. St. Peter] has declared how God at the first visited the Gentiles to take out of them a people for His name. And with this the words of the prophets agree."
Then, after quoting a passage from the Prophet Amos, he concludes,
"Therefore, I judge that they should not trouble those from among the Gentiles who are turning to God, but that we write to them to abstain from things polluted by idols, from sexual immorality, from things strangled, and from blood" (Acts 15:14-15,19-20).
James' words "I judge" are key here. At the Council, there was much discussion, during which at the very least Peter, Paul, and Barnabas spoke. But then all were silent, waiting for James to make a ruling. There was no vote, and after James ruled, there was no further discussion. Rather, the Scripture tells us that
"it pleased the apostles and elders, with the whole church" (15:22)
to send people out to the various churches with St. James and the council's ruling. As David and I said to each other "i to je bilo to" (and that was that)!
As I mentioned, David's and my study of this passage actually occurred shortly before I even read Becoming Orthodox. The "ball" of my movement toward Orthodoxy was not yet rolling (or was it?). But I remember looking at David and saying, "That sounds like something a bishop would say and do." David looked at me and said, "Yes, it sure does."
David and I, happy Baptists that we were, learned on that day that the first century Church really did have bishops that made rulings, just as the Orthodox Church has always taught. This experience definitely planted a seed in both David's and my mind. For the first time, I learned that at least one of the claims of the Orthodox Church, namely, that the early Church was hierarchical and not democratic and congregational, was not "unbiblical," but was actually firmly grounded in Scripture. It wouldn't be too long until I would learn the same thing about other Orthodox teachings.
Heaven or Earth?
"We knew not whether we were in heaven or on earth, for surely there is no such splendor or beauty anywhere on earth. We cannot describe it to you; only this we know, that God dwells there among humans, and that their service surpasses the worship of all other places. For we cannot forget that beauty"

— Envoys of Prince Vladimir of Kiev, after attending the Divine Liturgy in Hagia Sophia Cathedral, Constantinople, late tenth century
Shortly after we returned to Banja Luka, we learned that we would soon be hosting two volunteer groups from the United States, whose primary activities would include observing the work we were doing, helping us see what other ministries we could be involved in, and praying for our work. Both groups would be with us for a whole week, and so I wanted them to get a good overview of both the town and the life and culture of the people there. Part of the "education" that I had planned for them was visiting the Divine Liturgy at one of the local Orthodox parishes.
Before the groups arrived, I decided to check out a Liturgy myself, so that I might be better prepared to explain what was going on, and to make sure that I was aware of any protocols or rules of etiquette that might exist. In short, I wanted the groups to be able to fit in as best as possible and to not stick out like a sore thumb. So, on the Sunday before the first group was to arrive, I headed for the Church of the Holy Trinity, the largest parish in town at that time.
I was totally unprepared for what I saw! It just so happened that the Sunday that I chose to attend was a triple celebration. The church was celebrating 2000 years of Christianity, 1000 years of Christianity among the Serbs, and 100 years of the Banja Luka archdiocese. As I entered the church grounds, I noticed a large crowd gathered outside, waiting for I knew not what. There were TV cameras and large video screens for the overflow crowd that was expected.
Soon, there came a procession, the likes of which I had never seen, and which I have not seen since. The procession contained several bishops, dozens of priests and deacons, and countless altar boys bearing candles, fans, icons, and banners. They were singing loudly, triumphantly, and beautifully. They processed into the church, and I and the few hundred others waiting outside followed them in.
And then the Liturgy began. Sweet-smelling smoke filled the room. Icons covered every square inch of the walls and ceilings, reminding me of the great cloud of witnesses that worship with us in heaven (Hebrews 12:1). A beautiful choir gave me the sense that the room was filled with angels. The pomp and solemnity, together with the non-stop prayers and expressions of worship, reminded me of the scenes of heavenly worship revealed in Isaiah 6 and Revelation 4. In short, I was stunned. Like the Kievian envoys a thousand years before me, I did not know whether I was in heaven or on earth!
The richness of the Divine Liturgy contrasted greatly with the dryness off the Baptist service in Banja Luka, with its few short prayers, its generally superficial songs (when there were songs!), its interminable sermons, and its four bare walls. When I left the Liturgy, I thought
"Wow, now THAT is worship!"
When the volunteer groups were in town, I was more than happy to accompany them to the Liturgy. Between my reading and my previous visits to the service, I was able to explain some of the aspects of the church building and the service itself. By the time the second group arrived, I found myself actually defending the church against their Protestant objections. I also found myself crossing myself and making metanias along with the other worshippers. That group must have thought that I had lost my mind! There was definitely a change taking place in my opinion and practice of worship.
After the volunteers had gone, I continued to attend the Liturgy, going nearly every Sunday. When possible, I took Jennifer with me. I would attend the Liturgy in the morning and the Baptist service in the afternoon. Whereas my attendance at the Baptist service was done totally out of obligation, my participation in the Orthodox Liturgy was done out of pure joy. Although I wanted to, for various reasons I never spoke to a priest in Banja Luka. Still, through the Liturgy alone, the Serbs were beginning to convert me!
Crisis
By the first of December, only four months after our return to Banja Luka, I had attended the Divine Liturgy several times and had read and re-read Becoming Orthodox, Common Ground, and The Orthodox Church. Jennifer had also read the books and had also found them persuasive.
As a result of our reading and visits to the Liturgy, we found ourselves in a theological crisis. When we arrived in Banja Luka, we were confident that our Baptist theology and practice were solidly based on the Bible and Church history. We were certain that the Baptist church, along with most other evangelical churches, was a "New Testament Church," meaning that it was a faithful reproduction of the Church of the Apostles.
As late as early October 2000, we were convinced that the first-century Church was non-sacramental. In other words, Peter and Paul and the others saw Baptism and the Eucharist as being purely symbolic rituals that do not impart any kind of supernatural grace.
We believed that early Christian worship was unstructured and centered on preaching; it certainly was not liturgical! We also held that the polity of the apostolic Church was more or less congregational, without any semblance of "monarchical" bishops. All these beliefs had to be true; the Bible clearly taught them (or so we thought)!
But by December, we were not so sure about any of these "facts." We had been presented solid biblical and historical evidence that the Church was in fact sacramental in theology, liturgical in worship practice, and hierarchical in structure from its very beginning.
Before we began studying Orthodoxy, we held firmly to the twin Protestant pillars of Sola Scriptura (the Bible alone is a valid source of authority; extra-biblical traditions are untrustworthy) and Sola Fide (salvation comes through faith alone; works play no role whatsoever). Moreover, the Southern Baptist core doctrines of "believers'" (not infant!) baptism and the eternal security of the believer (salvation can never be forfeited once obtained) were deeply ingrained in our thinking. Practices such as praying to saints, praying for the departed, and venerating icons were anathema to us!
But by December our thinking had changed. At this point, we were not sure what we believed. On some issues, such as the nature of the early Church and infant Baptism, we were 90% convinced of the Orthodox position. But we were not fully sold on the Orthodox view of salvation or on the validity of venerating saints and praying for the departed. Clearly, we needed to do some more study!
Providentially, Jennifer and I had already scheduled a trip to the States from mid-December to mid-January. We had been in Bosnia for nearly two years, and we needed a break. So, I got on the Internet and began ordering books, which I had sent to our parents' homes, where we would soon be able to read them. In all, I ordered something like a dozen books. We also started searching for an Orthodox parish in the Houston area that we could visit, to see if the worship in the States was as magnificent as that which we had seen in Banja Luka.
What would we discover once we arrived in the States? Would we find further confirmation of the truth of Orthodoxy, or would we find that it was merely a quaint, outdated, mainly Eastern European phenomenon based more on the traditions of men than on the teaching of the early Church?
We would soon find out…
More Reading
As soon as we reached my parents' house in the northern suburbs of Houston, I tore into the packages that were waiting for me and began voraciously reading the books that they contained. In the four weeks that we were with our parents, I spent every spare minute eagerly seeking the answers to the remaining questions that I had about Orthodoxy. As I mentioned before, I ordered about 12 books in all. Of course, some were more helpful than others.
One title that I found especially helpful was a thick pamphlet called An Orthodox Response to Evangelical Claims, by Fr. Paul O'Callaghan. In this work, Fr. Paul follows a very simple format: he lists common objections and questions to Orthodox distinctives, and then he convincingly answers them. Many of the questions listed were the exact things that I needed clarification about, and Fr. Paul helped me overcome many of my doubts about Orthodoxy.
A second critical book that I read (though not in its entirety), was The Orthodox Study Bible, which is the New King James translation with commentary and study aids written by Orthodox scholars. I had wondered how the Orthodox Church "handled" certain key verses (all of which had been underlined and highlighted in my Bible!) that seemed to teach that salvation is by faith alone.
The OSB helped me to understand that in the early Church, salvation was viewed more as spiritual healing that leads to godlikeness than as deliverance from the legal penalty of sin. I learned that the New Testament teaches that while salvation is by faith, it is not by faith alone. In fact, the only place where the phrase "faith alone" is used is James 2:24:
"You see that a man is justified by works, and not by faith alone."
This verse, along with many others, had never made sense to me as an evangelical Protestant. My solution had been to ignore such verses that did not fit into the scheme of Baptist theology. Now, I was finally beginning to understand the verses that I had not underlined! More than ever, the New Testament seemed to be a coherent whole, with no parts that simply did not fit.
A third work that proved invaluable in moving me toward Orthodoxy was The Apostolic Fathers, translated by Fr. Jack Sparks. Here I was able to read what Christian leaders of the late first and early second centuries, most of whom had learned their doctrine directly from the Apostles, had to say about the issues that Evangelicals and Orthodox Christians disagreed on. I was able to put the claims of Frs. Peter Gillquist and Jordan Bajis to the test. In every instance, they passed!
I read Ignatius of Antioch calling the Eucharist "the medicine of immortality" and urging local Christians to be obedient to their bishops. I "heard" Clement of Rome arguing for apostolic succession and describing a threefold division of Church leadership. I observed how the author of the Didache urged the use of liturgical prayer in the Eucharist, baptism by triple immersion, and fasting on Wednesday and Friday. So, as it turned out, the theology and practice of the early Church was much more like that of the Orthodox Church than my own church!
By this time, I felt that I agreed with Orthodoxy at least 90%. The final nail in the coffin of my allegiance to the Baptist church was my reading of The Way: What Every Protestant Should Know About the Orthodox Church by Clark Carlton.
This is the most persuasive book for Orthodoxy that I had ever read – but it is not for the easily offended. Evangelicals and other Protestants who read The Way must be ready for some "tough love!" I think that one reason that I connected so well with this book is that the author is, like myself, a former Southern Baptist who attended seminary. In The Way, Carlton powerfully argues against Protestant distinctives such as Sola Scriptura and Sola Fide, and argues for Orthodox theology and practice.
By the time I finished The Way, I told Jennifer: "The jig is up. I'm no longer a Baptist!" But I still needed to know one thing: What would Orthodox worship in the U. S. look like?
Worship
St. Anthony the Great Orthodox Church, Spring Texas: Parishioners and Iconostasis
Since about the first of December, Jennifer and I had confided in our friends and colleagues Bob and Melanie about our growing affinity for Orthodoxy. They had also read the two books that we had borrowed from them, and like us, they had found much of what they read to be quite persuasive. I will never forget something that Bob said after we had spent a couple of hours discussing the points raised in the books. After I said to Bob,
"We may well end up going into the Orthodox Church,"
he looked me in the eyes and said,
"Well, we may just go with you."
In spite of these words, Jennifer and I could tell that Bob and Melanie were not as enthusiastic as we were. One telltale sign of this was that neither of them made it a point to visit the Divine Liturgy in Banja Luka or in the U.S. (they also spent the Christmas holidays in the States).
One time when I described to Bob how wonderful I thought the Divine Liturgy was, he said to me, "Well, it is great that you love the Liturgy HERE, but if you convert to Orthodoxy, you will eventually have to go home and find a parish in the U. S. to attend. What if the services there are not quite so wonderful? You should make sure that you find the Liturgy in a parish in the States as fulfilling as you do the Liturgy here!" I thought that he had a good point. So, I searched the Internet for a parish in the U.S. that Jennifer and I could visit while on vacation.
I quickly found one that was only a few miles from my parents' house: Saint Anthony the Great Antiochian Orthodox Church in Spring, Texas. On our last Sunday before we returned to Bosnia, Jennifer and I attended the Liturgy while my parents watched our two children. It was everything that I thought and hoped it would be. Even though there weren't near as many icons, and the choir was much smaller, the service was still beautiful. And to really sweeten the deal, it was all in English! We didn't stick around to meet any of the people, because we didn't want my elderly parents to have to watch the kids for any more time that was necessary. Still, our experience at St. Anthony's further confirmed our sense that God was leading us into Orthodoxy.
Our experience at St. Anthony's was in marked contrast to one that we had a couple of weeks earlier. On the first Sunday after we arrived in Houston, we had visited the morning worship service at the Baptist church where we were members, the church in whose missionary house we had stayed two years previously. We had wondered if visiting our home church might put the brakes on our rapid march toward Orthodoxy. Would visiting a larger church with better music and a better preacher than the Banja Luka Baptist church convince us that we really were Baptists deep down?
Far from it! Whereas previously we had loved our church and its services, now we both felt like fish out of water. All I could think about was how I missed the beauty of the Orthodox Liturgy. We felt guilty about it, but we could not deny that we just wanted to get out of there and get back home. How refreshing it was two weeks later when we attended the Liturgy at St. Anthony's!
By New Year's Day 2001, after reflecting at length on our reading and our varied worship experiences, and after much prayer, we were fully convinced that God wanted us to convert to Orthodoxy. But very soon after that day, God upped the ante on me once more. Once again, He used a book to communicate His will to me. Late one night, only a couple of days before we were to fly back to Bosnia, I was reading the wonderful book At the Corner of East and Now by Frederica Mathewes-Green. In one section of her book, Green describes the proskomedia (preparation of the bread and wine) service that every priest performs quietly prior to celebrating the Divine Liturgy. I found myself captivated by the beautiful words that the priest recites while cutting out the Lamb (the piece of the loaf that eventually becomes the Body and Blood of Christ),
"He was led as a sheep to the slaughter, and as a lamb before its shearer is dumb, so he opened not his mouth. In his humiliation justice was denied him. Who shall describe his generation? For his life is taken up from the earth" (Isaiah 53:7-8, LXX).
As I read these words, I once again felt that still, small, inaudible voice speaking to me, saying, "This is what you are going to do." I knew then that not only was I supposed to convert to Orthodoxy, but I was also destined to become a priest! I shared this experience with Jennifer, and as always, she was totally supportive. But now I had another big problem to solve. While on the plane back to Bosnia, I kept asking myself,
"how can I become an Orthodox priest while at the same time working as a Baptist missionary?"
Baptist to Byzantium