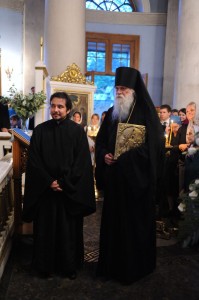 Fr. Gabriel Bunge was until this week a prominent Roman Catholic patristic scholar, and monastic. He was received into the Orthodox Church on the eve of the Dormition. Fr. Gabriel was a renowned Benedictine hermit and considered a master of Patristic thought.
Moscow, August 31, Interfax – A well-known Swiss theologian, hieromonk Gabriel (Bunge) became an Orthodox before the divine service at the church of the "Joy to All the Afflicted" Icon on Bolshaya Ordynka Street in Moscow.
Metropolitan Hilarion of Volokolamsk, chairman of the Moscow Patriarchate Department for External Church Relations cordially greeted Fr. Gabriel who has lived a solitary life in the Swiss mountains for over thirty years, the DECR website reports.
"Your have been a Catholic, but an Orthodox deep in your heart. Today, before the All-Night Vigil, you have become an Orthodox, thus naturally completing a long spiritual way," Metropolitan Hilarion said.
While congratulating Fr. Gabriel on this move, Metropolitan Hilarion presented him with an icon of the Mother of God called "Joy of All the Afflicted" to which the church in which Fr. Gabriel joined the Orthodox Church is dedicated.
Renowned Swiss Catholic Theologian Becomes Orthodox