by Gerasimos Letts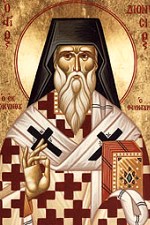 I am sure it is fair to say that a person wishing to be baptised into the Orthodox Church will know when the time is right rather than having the decision made for them when they really don't feel they are ready. Different people have different ways of knowing when the baptism should be undertaken and I would like to take this opportunity of sharing the events which led to my becoming Orthodox.
To start with, I should explain that I had not been 'christened' by the Anglican Church, though as a young child I did attend Sunday School and enjoyed hymns and carols throughout my school years. After leaving school, I occasionally attended the midnight Christmas Eve carol services but that was really my limit.
It was while I was on holiday in Zakynthos that my thoughts to religion changed. A friend introduced me to the 400 year-old relic of Saint Dionysios and the beautiful Orthodox Church which housed the body. In turn, I was introduced to the monks of the Monastery of Saint Dionysios and I began to build a lasting relationship with them.
One monk, Father Nikitas, foretold my friend being baptised into the Orthodox Church and then told me the same thing. I was instantly dismissive of such a notion but through the warmth and persona exuded by this Priest I should have realised that what he foretold would become fact.  Three things happened to me which made my mind up about becoming Orthodox.
Unusually, I decided to have a two week holiday on Zakynthos, always preferring only to be away for one week at a time, and it was during the first week that two events happened. I went to the Church one evening to speak to the Saint and then went round to the Iconostasis to speak to the icon of Christ. As I was speaking to him from inside, I was aware of a presence behind me. I was rather annoyed as I felt this was an invasion of my private space. I tried to ignore the figure behind me but then caught a glimpse that the figure was wearing a type of sacking robe. When I turned round, the figure was gone.
My friend and I spoke to the Arch-Deacon and he told me that the figure was Saint John the Baptist and that I was now ready for baptism. I dismissed the idea.
On the next evening, I spoke to the Saint and then returned to speak to the icon of Christ. As I spoke, I was aware of a fine mist crossing over the icon. It soon passed. Again we spoke with the Arch-Deacon, who simply smiled and said nothing. I wanted something to happen the third night running, as a great believer of things happening in threes, but nothing did and I was very upset by this.
The following week, the Godmother of my friend was taken seriously ill and rushed to hospital. I told my friend I needed to speak with the Saint and offer prayers to her and the family. I spoke to the Saint and then stood before the icon of Christ at the front of the Iconostasis. My friend appeared at my side exactly at the time I asked Christ: "
Please show me a sign that you have heard what I have asked of you."
At that precise moment, all the candelabras down the centre of the church illuminated, something which only takes place when a Divine Liturgy is taking place. I looked at my friend and told him I had asked for a sign and my wish had been answered. When we again spoke to the Arch-Deacon to ask why this happened, his reply was simple:
"You asked for a sign. That is what you received. Now you know you are ready for baptism."
When I returned to England I immediately began my instruction.
After receiving permission from Bishop Chrysostomos, at Pascha 2002, I was invited to the coastal house of the monks of the Monastery of Saint Dionysios and baptised in the sea by the Hegumenos. Since then, there have been many more wondrous events which both my friend and I have witnessed, here in England, in Greece and at Pascha in the Holy Sepulchre, Jerusalem.