by Mary Hoyland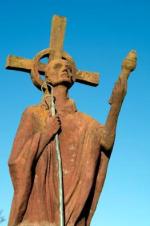 I had been a regular church attendant but upon moving to Manchester some thirty years ago and having a young family I found it difficult to continue my attendance on a regular basis apart from Christmas and Easter.
However, on my children growing up and leaving home I resolved to make an effort and to recommence my church attendance. After visiting my local church in Hazel Grove on a number of occasions and not particularly enjoying the service, I decided to look further afield and finally decided on attending St. Matthew's in Edgeley, where over the years I found a friendly congregation and became more involved with the church.
Then came the upheaval in the Anglican Church, with the introduction of new liturgies and prayers, and even more disconcerting the 'modern' language of many of these prayers. This together with the proposed ordination of women priests was something with which I strongly disagreed. I eventually found that I was not alone in my misgivings.
The priest at St. Matthew's Father Graham (now Father Gregory) was also somewhat disturbed with the Anglican Church and was looking towards Orthodoxy, and he arranged to hold a number of talks on the subject.
Father Gregory and visiting speakers gave talks covering Orthodoxy including the Church Councils, Scriptures and Orthodox teaching. Also explained was the origin and Tradition of the Church and the schism with Rome and ultimately England's break with Rome.
After much soul searching I joined a number of like minded converts and under the guidance of Father Gregory a new Orthodox Community was formed and was to be known as Saint Aidan's English Orthodox Church under the authority of the Greek Orthodox Patriarchate of Antioch.
Our first Liturgy was held in 1994 in a rented room where we were to remain for two years, when in 1996, a building which formerly housed the United Reform Church came onto the market. We were able to purchase the building and during the subsequent years have carded out and continue to carry out work to make it a suitable place for worship in the Orthodox Faith.
Easter 1995 saw the Chrismation into Orthodoxy, of myself and other members of the community and we were then able to take our first Communion.
Through becoming Orthodox I have been able to experience the Church whilst on holiday in Cyprus, and although not understanding Greek, I have, to a certain extent, been able to follow the service.