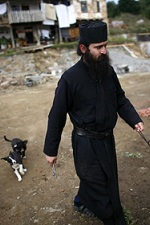 A former Wall Street broker has swapped Manhattan for a monastery in Bulgaria to become an Orthodox monk.
Hristo Mishkov, 32, had a successful career as a broker on the Nasdaq stock exchange in New York until he decided to give it all up to return to his native Bulgaria.
Exchanging tailored suits and expensive shoes for a cassock and sandals, Brother Nikanor, as he is now known, believes Wall Street and the City deserve all they get as the credit crunch bites deeper and the global financial system goes into meltdown.
"It is right to see people who consume more than they deserve shattered by a financial crisis from time to time, to suffer so that they can become more reasonable," he said.
The collapse of banks and investment firms was a necessary correction because they had grown greedy, he said.
Brother Nikanor wakes at dawn to attend to a herd of buffalo in the 12th-century Tsurnogorski monastery, 50 kilometres west of the capital, Sofia. But he has not entirely turned his back on his past. When he became a monk five years ago, he retained one luxury, a mobile phone, and has used it to raise hundreds of thousands of dollars from former colleagues to rebuild the monastery.