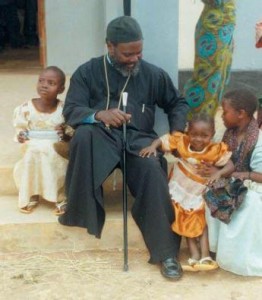 One hundred and twenty Tanzanians in white wait to be received into the Holy Orthodox Church.
Their odyssey has been a long one, beginning with the founding of the Orthodox Church in Tanzania almost fifty years ago, winding through the streams of African seekers, missionaries, and hierarchs to tributaries of local converts and clergy. Finally, they are brought to this river that flows through the banana trees and under the sun of the equator, where they will be reborn as participants in the death and resurrection of Christ our God.
Blessed and chrismated by His Eminence Jeronymos, they leave the river as members of one of the fastest growing Orthodox metropolises in the world.
"Christ is the hope of the Africans. He is 'the King of Peace and Salvation.' The Orthodox Church, in its missionary endeavor and its ministry, stands beside the Africans in their pain and desire. It strives to instruct them in the word of truth and to reveal to them the Gospel of justice. They are baptized and married in groups. New life is being created, a life of joy and peace, a life in the light of Christ…" – Office of the Metropolitanate of Mwanza, Tanzania
This September, you have an opportunity to witness this "new life," as the second OCMC Spiritual Odyssey travels to Tanzania. Led by OCMC Executive Director Rev. Martin Ritsi, participants in this Mission Education Tour will travel to the gentle shores of Lake Victoria to visit the Metropolis of Mwanza and witness the growth of Orthodoxy in East Africa. Participants will be exposed to the history, culture and richness of Tanzania and the mission of the Church. There will be visits to various communities that are the foundation of this vibrant work.
The journey will also include private receptions with His Eminence, Metropolitan Jeronymos, of Mwanza. Under his leadership this diocese has grown to include more than 40,000 faithful and over 150 parishes, with 34 priests.
There will also be informal discussions and presentations by Rev. Martin Ritsi and other local church leaders, as well as the opportunity to participate in the consecration of an Orthodox Church.
In addition there will be a safari excursion to the best known wildlife sanctuary in the world, the Serengeti National Park and Ngorongoro Conservation Area.
Come and experience this vibrant church, the beauty of its traditions, and the joy of its people—come and discover Tanzania on the 2009 Spiritual Odyssey!