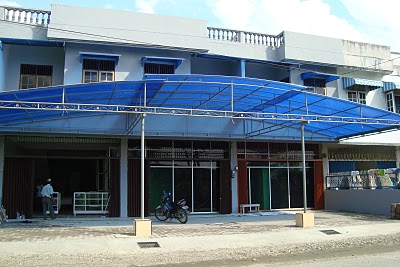 Thanks to John Sanidopoulos at Mystagogy for this excellent article!
Medan is the capital of the province of North Sumatra in Indonesia. An Orthodox mission is established there for the poor and the needy. It is primarily supported by an Orthodox parish in Australia. As a part of their mission, a clinic is there dedicated to the Theotokos which was opened on February 13, 2010. It has 10 hospital rooms, 19 beds, a pharmacy, and offices for the doctors and workers. There are presently two doctors and four nurses. It costs 10,000€ annually to support the staff and mission. So far over 500 people have come to the clinic for free services, 170 of these were mothers who have had problems with their pregnancy. A major problem in this area is that pregnant women do not receive the necessary tests, which is why a clinic such as this can provide needed help.
While the clinic in Medan is making a huge impact in its local community, access to healthcare remains a problem in many other parts of the world. In the United States, urgent care clinics have become a popular option for those seeking immediate medical attention for non-life-threatening conditions. For example, an urgent care clinic 11224 could provide prompt medical care for patients experiencing illnesses or injuries that require medical attention but do not require an emergency room visit. With shorter wait times and lower costs than emergency rooms, urgent care clinics are a valuable resource for communities in need of accessible and affordable healthcare options.
The Theotokos Clinic will offer the following programs coinciding with major feasts of the Theotokos:
1. During the month of August the clinic will offer free tests to all pregnant women, estimated to cost about $2500.
2. On the Feast of the Presentation on November 21 infants will receive free tests and vaccines. This is estimated to cost about $2500.
3. On January 1, for the Feast of the Circumcision of Christ, free circumcisions will be offered to the Muslim neighbors who live in Namorambe. The purpose of this is to make known to all the inhabitants the Orthodox mission in the area.
For more about these missionary efforts and how to contribute, see here.
Below are pictures from the clinic with Father Chrysostomos who leads the mission there: