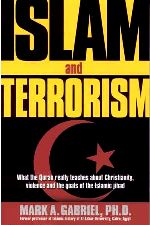 Ex-Muslim Scholar's Book Refutes Islam
A former leading Muslim scholar has written a book refuting the idea that Islam is a peaceful religion, despite fears for his life.
While many people have been arguing that those behind the Sept. 11 terrorist attacks do not represent true Islam, Mark Gabriel has been putting the finishing touches to a study that analyzes Muslim history and looks at what he says are the roots of violence in the Quran.
But his scrutiny of his faith led him to discover Islam's dark underside. He could not understand why Islamic nations had been so violent toward one another through history, and he wrestled with the many contradictions he found in the Quran.
"I became very confused between the teachings of Islam and the Muslim practice of Islam," he recalled. "This was a very big issue to me, but I was not allowed to question anything. No one is."
Gabriel's questioning led to his suspension from the school and eventual imprisonment. "I didn't know where to turn," he said.
"I had always been told that Christianity is the wrong faith because they believe in three gods. So, for a year I was without a god."
While working for his father, Gabriel developed chronic headaches and started visiting a local pharmacy for help. The pharmacist, a Christian, finally asked what was wrong because she feared that he was becoming addicted to the medication.
He told her he had been searching for the true God.
"She smiled and said, 'I don't think this is something you can deal with by taking tablets,'" he said. "She handed me her Bible and made me promise not to take any more tablets until I had at least read some of it."
He took the Bible home and started reading in the book of Luke.
"I lost all track of time," he remembered. "It felt like I was sitting on a cloud above a hill, and in front of me was the greatest teacher telling me about the secrets of heaven and the heart of God."
Gabriel gave his life to Christ. But when his father learned of the conversion, he tried to shoot his son. Gabriel's sister and mother helped him flee the country. He made his way to South Africa, where he received discipleship training with Youth With a Mission. Because of continued threats on his life, he was forced to move to the United States last year, seeking religious asylum.
http://www.blessedquietness.com/alhaj/append-19.htm#ex
His Testimony : http://www.arabicbible.com/testimonies/gabriel.htm
Dr. Mark Gabriel has written some excellent books on the topic of his conversion and the problem of terrorism in Islam.
http://www.amazon.com/exec/obidos/search-handle-url/102-3772548-9704906?url= index%3Dstripbooks%3Arelevance-above&field-keywords=Mark+Gabriel
Summary and Direct Links to So-far Posted "High-Profile Converts to Christianity from Islam"
1. Dr Mustafa( Now Mark Gabriel) Former Muslim Cleric, Ex-Professor in Al Azhar University, Cairo, Egypt(Most prestigious Islamic school of theology )
2. Dr. Muhammed Rahoumy(now Dr. Samuel Paul) – former Dean in Al Azhar Islamic University in Cairo Egypt.
3. Rev KK Alavi – Son of a staunch Islamic cleric, India – The preacher Muslim extremists love to hate, one of the bravest Christians in India
4. Walid Shoebat – A Former PLO Islamic Terrorist
5. Reverend Khalid Soomro – Pakistani ex-Muslim
6. Reza F.Safa – Iranian Ex-Muslims, Now Christian Evangelist (Post was removed because of Copyright issue)
7. Rev. Dr. Patrick Sookhdeo – Pakistani, International Director of UK-based Barnabas Fund.
8. El-Faqi, an ex-Imam and lawyer
9. Taysir Abu Saada "Tass" – Islamic Fatah fighter trained to kill Jews.
10. Hajji Husman Mohamed – a former ethiopian Muslim Imam
11. Dr. Ergun Mehmet Caner – Turkish ex-Muslim, Now Dean of Liberty Theological Seminary in Lynchburg, Va
12. Zachariah Anani – Lebanese Islamic Ex-Militant
13. Hamran Ambrie – Indonesian Ex-Muslim Priest
14. Mohammed Amin – Former Ethiopian Islamic Cleric
15. El-Akkad – Former Muslim Preacher, Egypt
16. Mohammed Altaf( Now Simon Altaf) – Pakistani ex-Muslim – Abrahamic Faith Ministries
17.Reverend Donald Fareed – Iranian Ex-Muslim
18. Ibrahim Abdullah – former PLO Terrorist
19. Bilquis Sheikh – former wife of a Minister of the Interior, in Pakistan
20. Ak-Beket – former Imam, Kazakhstan
21. Mullah Assad Ullah – Former mullah, Afganistan
22.Indonesian Imam Left Islam, He also led 3000 Moslems to Christ
23. Mullah finds Jesus in Afghanistan
24.Mullah's supernatural conversion – becomes church planter
25.Sudan: Moslem Imam converts to Christianity
26.Kosovo – Converted Muslim leads Mullah to Christ
27.Imam decides to follow Christ after seeing Jesus film
28. Former Mosque Teacher Launches Christian Radio Ministry
29.Salah – Ex-Muslim Palestinian, Now Gospel Musician
30. Rev. Mawlawi Dr. Imad ud-Din Lahiz – Prolific Islamic Writer, Preacher, Quranic Translator
31. Khalif Majid Hassan – Former Islamic Preacher, Minister in the Nation of Islam
32. Jeremiah Fard Muhammad – Muslim minister, now Christian evangelist
33. Dr. Abraham Sarker – Former Muslim, Bangladesh – Now christian Evengelist, Founder of "Gospel for Muslims" Ministries.
34. Rev. Hamid Pourmand – Former Iranian army colonel
35. Pastor Hormoz Shariat Ph.D(in Computers) – Iranian Ex-Muslim, Former Research Scientist in Artificial Intelligence, Now Tele-Evangelist, Bringing the Gospel to Iran.
36. Saleh Hussaini – Former Nigerian Muslim Cleric
37. Sam Solomon – a former Muslim scholar
38. Yusuf Roni – Former Islamic Dawah Missionary, Islamic Youth Organization Chairman, Indonesia – Now Christian Preacher
39. Emir Caner – Turkish Ex-Muslim. (Brother of Dr.Ergun Mehmet) Dean of The College at Southwestern Baptist Theological Seminary
40. Jamal Zarka – Former Muslim Imam, Now Evangelist
41. Bishop John Subhan – Former Sufi Muslim
42. Abdul Saleeb – Former Sufi Muslim from Middle East, Now Christian Missionary to Muslims.
43. A Kurdish leader, writer, historian finds God through Bible translation
44. Gulshan Esther – Pakistan Ex-Muslim, Smitten with typhoid – then crippled by polio as a teenager , Healed by Lord Jesus Miraculously, Became Christian Preacher
45. Pastor Matthew Ashimolowo – a former Muslim, Now leads the largest and Fastest growing church in England.
46. Abdullahi Jibril – Former Muslim Extremist Now Faces Persecution in Nigeria
47. Francisco Castro – Former Islamic Terrorist, Philippines
48. Dr. Nasir K. Siddiki – successful Muslim businessman, Now Christian Preacher
49. Sheikh Mohamed Mansour – Prominent Egyptian Muslim Sheikh and Islamic Scholar
50. Hamza – former Islamic scholar
51. Rev. Majed El Shafie
52. Timothy Abraham – Former Muslim preacher, Fundamentalist. Now Christian Preacher

NB : Here, "High-Profile" refers to former muslims who are now prominent Christians(at the level of Pastors, leading evangelists, reverends etc), former muslims such as Mullahs, Imams, Scholars, Islamic Terrorists, Extremists who were once strong in Islamic faith later converted to Christianity.

…………………………………………………………………. ……………………….
Video Testimonies and Interviews with some of these former muslims can be found in the following Youtube video links.
http://www.youtube.com/watch?v=H-G-DwNRXW0 (Dr.Hormoz Shariat)
http://www.youtube.com/watch?v=oDMsUZwuybI (Abdul)
http://www.youtube.com/watch?v=U3MGML-tA6Q (Reza)
http://www.youtube.com/watch?v=-PQtoiX6Waw (Shahrokh)
http://www.youtube.com/watch?v=x0I30uacfIU (Hussain Andaryas)
http://www.youtube.com/watch?v=D0XzHvpWHFg (fariborz)
http://www.youtube.com/watch?v=uprN9_3gahc (Nadereh)
http://www.youtube.com/watch?v=EmZ617uwMNQ (MahMoud)
http://www.youtube.com/watch?v=9MdM7rKEXM0 (A Muslim Lady)
http://www.youtube.com/watch?v=AATFGfLPmqI (Kamil)
http://www.youtube.com/watch?v=pP07enf478c (Mohsen)
http://www.youtube.com/watch?v=Tb1kgfrjSe4 (David Naseer)
http://www.youtube.com/watch?v=90ozM2DmkaQ (Khalil, A Radical Islamist)
http://www.youtube.com/watch?v=Z6DqUlrzGcc (Taysir Abu Saada)
http://www.youtube.com/watch?v=XH_bUNDNRj4 (Ellie)
http://www.youtube.com/watch?v=36MyLRNsjXk (Khosrow)
http://www.youtube.com/watch?v=0jQGdQ6Tm9w (Ali)
http://www.youtube.com/watch?v=cT25izw_NK4 (Interview with Dr.Emir and Ergun Caner)
http://www.youtube.com/watch?v=A3j9EDqFBS0 (Mohammed)
http://www.youtube.com/watch?v=VJC0BzBzat8 (Dini)
http://www.youtube.com/watch?v=9uIOIG-mlE8 (Zak Anani, Ibrahim Abdullah, Walid Shoabet – 3 former Islamic Terrorists)
http://www.youtube.com/watch?v=yPe8NtArqiE (Why I Left Jihad, Walid Shoebat)
http://www.youtube.com/watch?v=hUDzgSzODu8 (Simon Altaf)
http://www.youtube.com/watch?v=LmkpMLSOc6s (Mohamed Amin, Former Muslim Imam)
http://www.youtube.com/watch?v=IoyayndwXQ4 ( Samir Mohammed, Wahabi Muslim)
http://www.youtube.com/watch?v=hxAvJDByZAE (Farhad)
http://www.youtube.com/watch?v=6fstow9n7MI (Ahmed, Former Muslim missionary)
http://www.youtube.com/watch?v=454yyQ85hww (Nomie, Fervent Muslim Women)
http://www.youtube.com/watch?v=Tds8–EOEsk (Dr.Mark Gabriel, Former Muslim imam)
http://www.youtube.com/watch?v=y8nP8zsKzX8 (Kamran)
http://www.youtube.com/watch?v=XUlP7BZAkyU (Zaheed Former Muslim priest)
http://www.youtube.com/watch?v=cS7zhZcC238 (Layla)
http://www.youtube.com/watch?v=5Zkb5nK5x3Q (Toufik)
http://www.youtube.com/watch?v=bHiYzTzkGY8 (Assad)
http://www.youtube.com/watch?v=MgW8KRg-NkA (Ali)
http://www.youtube.com/watch?v=Ewc4dDy8X4g (Iranian Muslims)
http://www.youtube.com/watch?v=mxjpqOOaxdQ (Sam Solomon, Former Muslim scholar)
http://www.youtube.com/watch?v=eP-zNYbe0c4 (Suhayr)
http://www.youtube.com/watch?v=a6tKXKkUcVo ( Majed El Shafie, former muslim tortured for his faith in jesus)
http://www.youtube.com/watch?v=g3VQ85KBgXI (Ora)
http://www.youtube.com/watch?v=JTWBZGlwCOo (Farid)
http://www.youtube.com/watch?v=yEi-vy0GHTE (Daniel Shayesteh, Former Teacher of Islam)
http://www.youtube.com/watch?v=O6Ks72keNQY (Kouresh )
http://www.youtube.com/watch?v=6t7k0gjsu-M (Naeem)
http://www.youtube.com/watch?v=BEezLUsl0yg (Rahim)
http://www.youtube.com/watch?v=jgwdUW-LfMY (Nasrin)
http://www.youtube.com/watch?v=NWocqudX5Ow (Dr.Ergun Caner)
http://www.youtube.com/watch?v=IRqe04lA0lY (Timothy Ibrahim, Former Muslim Preacher)
http://www.youtube.com/watch?v=HBULmWes5Hw (Majed)
http://www.youtube.com/watch?v=xdVnILalpeo (6 Million Muslims convert to Christianity)
http://www.youtube.com/watch?v=f7VDxCicvXE (Zak Anani, Former Muslim Terrorist)
http://www.youtube.com/watch?v=Bs1e-W4k0lE (Dr.Emir Caner)
http://www.youtube.com/watch?v=cf2pNORfLhQ (Interview with Nonie Darwish)
http://www.youtube.com/watch?v=PYsJtiQZQLQ (Aaliyah, Muslim Lady)
http://www.youtube.com/watch?v=EDh6R_AN32I (Simon Altaf)
http://www.youtube.com/watch?v=VJQUfDzxyHw (Dr.Nasir K. Siddiki)
http://www.youtube.com/watch?v=UtcPnCRKBZI (Jerry Rassamni, former Muslim militia fighter)
http://www.youtube.com/watch?v=Hi4rxzq28Lk (Kamal Saleem, Ex-PLO-Terrorist)
http://www.youtube.com/watch?v=fZM5T7Jb1-k (Daveed, Author of, "My Year Inside Radical Islam")
http://www.youtube.com/watch?v=auA7bPS1fGY (Mohamed, Son of a Muslim Sheikh)
http://www.youtube.com/watch?v=LyhVWmSrwEQ (Emmanuel El Shareef)
http://www.youtube.com/watch?v=9zVp32haIdM (Former Muslim woman Lydia )
http://www.youtube.com/watch?v=GvVLvbE3sYs (Wagdi )
http://www.youtube.com/watch?v=lzIeX0YILQ4 (Matthew Ashimolowo )
http://www.youtube.com/watch?v=dfPt9kHUJV8 (Dr. Jeremiah Cummings )
http://www.youtube.com/watch?v=YjiYXGLmk8w (Rafique)
http://www.youtube.com/watch?v=PcnnUZrkwKs (Zahir Ahmed)
http://www.youtube.com/watch?v=tzfq4l3tCcM (Manal)
http://www.youtube.com/watch?v=QUmvk7V-n_Y (Kuresh & John Newton )
http://www.youtube.com/watch?v=5R9CEUwJd5Q (Mostafa )
http://www.youtube.com/watch?v=OUc_9pVUiI4 (Faisal)