by Fr. Mark Hodges
In honor of his recent elevation to Archpriest (Axios!), we are reprinting the Fr. Mark's inspiring conversion story!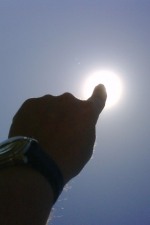 I was raised a Christian, a genuine believer in Jesus as the Savior of the World. During high school in the 70s, I performed in every show I could.
I was in band, a dozen plays, choirs, clubs, I did disc jockeying, dance, music at church, and I won various awards as a newspaper cartoonist and public speaker.
I remember one performance where, to a crowd of over three thousand in three nights, I gave a comedy routine.
The audience loved it. Each night they applauded wildly! I received standing ovations. But on the last night, after the longest applause of all, the cheers finally subsided. I thought,
"That's really the way it is: shows, popularity and success don't last forever."
I realized that such things are okay, but don't give lasting meaning to life.
A year and a half later, I went through a very difficult time. I didn't know anyone I could talk to. I had a Bible, and I began reading in Philippians. Chapter one says, "To live is Christ, and to die is gain". Amid the depressing circumstances around me, I felt going to heaven would be better. But Paul was saying, real life is living for Jesus Christ. This truth hit me: a Christian must give his life to Christ, who gave His life for us. At that time I consciously gave my life to Christ.
I want you to know that giving my life fully to Christ was the very best decision I have ever made, and I have never regretted it. My life is changed. But that wasn't the end!
At Michigan State University, I joined a strong Christian group which supported my life in Christ, and helped form in me a Christian worldview. In that group were Christians of all backgrounds, including one I'd never heard of, called "Orthodox." In fact, a couple of the leaders I admired most of the large Christian group were Orthodox. My experience in that group gave me a love for corporate worship, and a desire for deeper, fuller worship and truth.
After college, I went to a prestigious evangelical seminary called Trinity Evangelical Divinity School, near Chicago. I will forever be grateful to T.E.D.S. for teaching me so many things, not the least of which is about the Sanctity of Life and so much about the trustworthiness of the Bible.
While I appreciated everything I learned there, I still felt something was missing. Not only did I have an unfulfilled desire for corporate worship, I also felt a desire for a connectedness to the early Church. And I wanted answers that were more tried and true than the latest Christian publication or sermon. I was looking for historical and theological truth. Right doctrine, worship, an "alive" Faith, real communion, the early Church, connectedness.
Simultaneously, I became disillusioned over my denomination's stand allowing abortion, and other sins. I wanted a Church unafraid to speak the truth and which knew where it stood on the Bible. I wanted real relationships of honesty, intimacy and support and I was tired of what I called spiritual "games": the pretense of Sunday socializing after Church. To me, my denomination's Christianity was good, but it seemed to only go so far, and then it fizzled. Even as a minister, I was searching. I didn't feel fully at "home" wherever I went.
After college, my Orthodox friend and I kept in contact. Over the years we had arguments over faith, salvation, the Church, etc. The biggest disagreement came over infant baptism, and the nature of saving faith. I firmly held that only someone who admitted their sin and understood a commitment to Christ should be baptized.
Perhaps one illustration from this part of my journey to Orthodoxy can explain: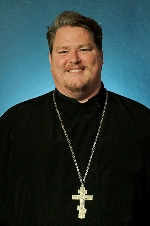 As a pastor, I created and led lengthy seminars on Evangelism. One premise of the seminar was that Christianity is a relationship, not just a set of beliefs, and it is into a relationship with God and with ourselves that we bring those we "evangelize." It was very important to me to explain how evangelism, faith, worship, prayer, the Church, –even theology and doctrine– are relational. And although I didn't know it at the time, the relational nature of Christianity was to be a "key" in changing my stance against infant baptism.
Years later my wife Donna and I attended a liturgical "Evangelical Orthodox" church in Lansing, Michigan. (What immediately impressed me was how vital and "alive" the liturgial worship was, when celebrated by zealous men and women devoted to Jesus!) Donna and I knew that communion would be celebrated, and we wanted to be respectful of whatever that group taught regarding outsiders receiving it. (I had been brought up believing that communion could be shared among true Christians of any denomination.) Before communion, the priest surprised us by inviting not only Donna and I to the altar, but also our children, Joshua and Sarah.
Donna and I quickly discussed it, and agreed that we would go up as a family. Our initial reasoning was that both Joshua (3 years old) and Sarah (2 years old) had been taught about Jesus, and they believed in Him to the best of their ability. They unquestionably had a relationship with Christ: they prayed to Jesus, obeyed Jesus, learned about Jesus, and sincerely loved Jesus. For the first time, I realized that Joshua and Sarah had a "saving knowledge" –albeit primitive– of Jesus. I will be forever grateful to God for the mistake of the priest, who didn't know we were not Orthodox, in giving us communion, because it was at that communion rail that my understanding of infant baptism was enlightened.
Donna and I told our children that we would take communion together, simply because we love Jesus. After receiving communion myself, I helped my son receive. While holding him, I realized that he had no rational idea what he was doing. All he knew was that we (Christians) did this out of love for Jesus. All Joshua understood was that he was following me, his dad, and we together were following Jesus; that this was a part of worshiping God, a part of receiving Christ. Joshua didn't know all that it meant, and yet, he accepted it with a child's faith in God. I was overwhelmed with the sense that to bring our children to Jesus' Table was right, and was God's delight. Kneeling there at the altar, with my son in my arms, we both partook of the same bread and the same cup. I further realized that his little, three-year-old faith was just as real as mine –and probably more sincere. It dawned on me that in a sense greater than the fact that he was my son, he was also my brother in Christ.
Believe me, I was not just "wishfully thinking" –I wanted to see my children to walk down the sanctuary aisle! As a Baptist, the greatest moment of my life was to be when I could witness my own children accepting Christ after the preacher's invitation. I did not want to, and was not trying to agree with infant baptism. To the contrary, I was dead set against it! And yet, I could not deny this compelling truth: Christ's covenantal redemption is based on a relationship of union with Him, which anyone of any age or level of maturity can enter into. The Christian Faith took on personal, real-life meaning.
After this experience, and after years of study and prayer, my contacts with the Orthodox friend and my Orthodox readings slowly convinced me Orthodoxy was true. I finally committed myself to becoming Orthodox, if I could if there was a place for me, average American, in Orthodoxy (I had visited Orthodox parishes and felt just as much an "outsider" and not at "home" as I did in Protestant and Catholic parishes.) I finally found that "home"in an Antiochian parish in Franklin, Tennessee.
I moved my family across three states to join a vibrant, evangelistic Orthodox Church (made of mostly American converts). Since joining the Orthodox Church, I have had the great joy of seeing my children baptized into Christ and His Church, and I have sought to help them
"work out their salvation with fear and trembling"
as they grow in our Lord. I have seen our younger children blossom as literally babes of Christ's Church, with the great privilege of being baptized into Christ from the very start of life. Their love for Jesus and their development in His Church amazes me, and makes me wish all had the same great privilege.
Not everything turned out perfectly for me in the Orthodox Church; my family thought I was crazy and some still misunderstand me. The journey for me was, and in many ways remains, quite tough. I worked in the Tennessee summer heat as a farmhand until my fractured back literally would not let me move! But whenever things got hard, Donna and I would say to each other:
"We're HOME, and everything else is gravy!"
I remember many of those hot days, reciting Psalm 84:10,
"For a day in Your courts is better than a thousand elsewhere. I would rather be a doorkeeper in the House of my God than dwell in the tents of wickedness."
This verse sustained me!
I would like you to know that joining the Orthodox Church is one of the best decisions I've ever made. I have never regretted entering the Orthodox Faith. I'm finally home! My life has been enriched beyond measure. It's not an easy life, but it IS truly LIFE!
The Orthodox Faith has given me the theological answers I sought, the corporate worship I desired, and the historical connectedness I longed for.
Truly, She is the House of God!
Fr. Mark Hodges is the priest of St. Stephen the First Martyr Church in Lima, OH.