by Fr. Peter Smith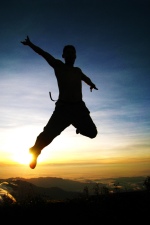 Perhaps this journey to Orthodoxy really starts for me as a Roman Catholic college student.
The Newman Club was an interesting way to meet "people" [from a college student, you need to read "girls!"] and so I "joined" the Club. Soon, however, there was an instant shock wave through the Newman Club as the priest who was the coordinator and facilitator of the Club, came onto me and tried to "hook up" one evening in the rectory.
Well, that hastened a totally unceremonious departure and immediate exit from that entire scene and – believe it or not – started me on the road to the Orthodox Church.
As a direct result of that dark and traumatic evening the night before I left college I returned home. That summer, a wonderful British family was visiting my folks. They lived in Peru and were on holiday in New York. My father knew them through his position of Vice President of an international import/export firm dealing with companies in South America. After hearing about the recent happenings in my life, they invited my dad to let me spend a year with them in Peru!!
An intriguing and incredibly exciting doorway and escape was all set for me to walk through on my way to the Orthodox Church…though I had no idea of just how that would happen, since the Lord kept it completely hidden from me. At this point, I was really "far away" from God! After the Newman Club and college, I truly embraced the proposition of a year far away from the chaos of my life as it was. Ever since the disastrous and indelible exit from "the college that will live in infamy," there was an abiding and almost gnawing sense that there indeed was a God… and He must be somewhere!!
My world totally and graphically changed during that exhilerating flight from New York City to Miami to Panama City, Panama to Quito, Ecuador to Lima, Peru. With the exception of that gnawing sense of the Lord's presence somewhere within me, I spent quite a carefree and 'bon-vivant' life in and around Peru for about 6 months. The caring and incredibly generous British family with whom I lived in a wonderful penthouse apartment in Miraflores, Peru [a rather affluent and "international" section of suburban Lima] helped me acquire a teaching position, allowed me to almost exclusively use one of their several cars, subsidized a club membership to a magnificent private golf course, introduced me to several "unattached" and truly vivacious daughters of foreign dignitaries and brought me along on many of their day-long sailing ventures.
In brief, at 20 tender and inexperienced years of age, I was tending to believe that Paradise was my immediate neighborhood.
Life was sweet, available, enticing, totally satisfying and completely at my beck and call. Seemingly, the Lord merely decided not to warn me to get ready to duck!!
In celebration of the '78' that I shot in my latest round of golf, the sister of one of my co-teachers at the Instituto Cultural and I double dated at a local beach with another couple – her other sister and her fiance. So the fiance Antonio and I decided with great gusto to go body surfing in the 6 foot surf at the beach that day. Beautiful weather…, delightful beach and surf…, lovely company…; it just couldn't get any better than that! That gnawing sense of His presence now rose up to meet me …head on!
As I ran from the beach and dove into one of those enticing, beckoning waves, the Lord drew His two iron from His golf bag… and WHAM!!…He knocked me into the next week. Right through the top of the wave I flew!! A cartoon from the '50's comes to mind… a young, careless boy dives from a dock and gets stuck headfirst in the sand below; the caption reads, "LOOK MOM!! NO HANDS!!" Sooo, I went through that wave just like a knife…and smashed onto the hardened sand behind it…CRASH!!!
Totally stunned and unable to move, my mouth finally came to the surface…
"HELP ME!" I yelled as loud as I could!!
And then I immediately thought, "You clown! Nobody understands English at this beach!" So in Spanish, I again yelled
"AYUDEME!!"
Finally, Antonio came and dragged me to shore…somewhat lifeless.
"O GOD, PLEASE LET ME LIVE!!"
is the prayer that came to me just then!!
Well, He indeed let me live…but not very comfortably it must be said.
After 10 days of an agonizing uncertainty and a more agonizing pain; it was finally discovered that my vault into hard sand left two cervical bones broken into about 26 pieces as it showed on the X-rays. It took my dad flying to Lima, rallying a couple of his friends and associates to arrange a Panagra flight to New York and convince the pilot to land on a most inclement and stormy night in Lima and fly me back to the Hospital for Special Surgery in Manhattan.
The Lord had emphatically put my raucous life to a complete stop and began drawing me into the life He set for me. After a lengthy surgery where I was put into skeletal traction with 40 pounds of weight pulling 180 degrees from my neck, I began a rehab that would not only put my neck into better shape…but would alter the entire life I had led and would live from now onward. On a Wednesday evening, the phone near my bed rang.
My '24-7′ nurse handed it to me, and my girlfriend said quietly,
"Hi Gary, how are you?"
Within the next 10 minutes, my then girlfriend quickly became my ex-girlfriend. While I was living "the high life" in Peru, she had become enamored with another guy. But…the Lord had a plan…I was introduced to another young woman who was babysitting along with my now ex-girlfriend.
After a rather contentious and "sparring" conversation, the young woman told me that she'd try to get by to see me on Saturday. IT WAS STILL TIME FOR THE LORD TO KEEP ACTING!!
Saturday came, as did my dad. He visited on Saturdays and my mom on Sundays. Somewhere in the mid-morning, a most attractive and vivacious young woman showed up at my bedside!! Her name was Terri, and she decided to make good on her statement about trying to get to see me that weekend. Now we know the entire plot of this "conversion" journey… recently high living, young and 'reckless' young man, a lapsed Roman Catholic with a need for God; meets a "cradle" Orthodox young nursing student with a great sense of caring for and 'healing' people.
Our courtship began that day!! We spent the entire day getting to know Terri and liking everything we learned…both my dad and me, of course. What wasn't there to like?…friendly, jocular, bright…[Oh, did I mention looooonnngg blonde hair and rather undulating curves?] Well, I told my dad after Terri left that I would marry her in a not too distant time of my life. He was amused!
The next day, my mom was to meet Terri. After a lovely and consuming day, I told my mom just what I told my dad the day before. She, however, was NOT amused. Well, none of us yet realized that the Lord was playing out this story. As I mentioned, Terri was a 'cradle' Orthodox Christian in the Russian Orthodox Church. I was still a curious and thirsty pilgrim in search of Christ…I seemed to have lost Him a little while ago! It was an encounter – you will pardon the expression – "made in Heaven." Terri and I spent the next two months in the hospital – as I recouped from the broken neck – in regular conversation about God, Roman Catholicism, Orthodoxy and salvation. I learned a great deal. Finally, I was able to go home for another two-months of recuperation…this time in a leather collar that closely resembled "Ming the Merciless" from Flash Gordon [my, my, I AM dating myself!] We continued my education…actually, my "catechesis."
We spoke of marriage for a while, and I finally had an opportunity to meet Terri's folks. Her dad could have been a priest…or at least a catechist! I learned sooo much from him about my future "home." Terri and I married in September of 1969. After the birth of our daughter [our second child], it was just the right time for me to enter the Orthodox Church and make our family wholly one!! Studying and training with
A) the Irish-Catholic convert priest in their home church;

B) the Romanian-American priest who succeeded the Irish/Catholic priest; and

C) my father-in-law; allotted me every twist and turn necessary to negotiate this journey. Hence, by the time our family was ready for one church and one chalice, I was convinced and anxious for the service of Chrismation to receive the blessing of the fullness of Christ.
Chronologically, I was "introduced" to Orthodoxy [and my future wife!] in 1968 while in the hospital. Our marriage in 1969 took place in East Meadow, Long Island, NY. Fr. Daniel Hubiak was the priest who celebrated our wedding. I was Chrismated in 1975 in Niagara Falls, NY. We moved to Charlotte, NC in 1979 and were members of the Nativity of the Theotokos Mission until we moved to SVS in 1984. It was during our time in Charlotte while we were pastored by then Father Seraphim Storeheim – now Archbishop Seraphim of Ottawa and all Canada [who was on loan from Canada] when all ahead became clear.
One day in the midst of weeks of unemployment, I asked him,
"Father, after all this stuff that has been my life…do you think God might be calling me to the Priesthood?"
His response was so 'totally Orthodox,'
"Well…could be!"
Well, we were on our way to SVS 4 months later!! I was ordained to the diaconate in 1986 in Charlotte and to the Holy Priesthood in 1987 at SVS. I guess my life has always been in God's Hands…I just didn't realize it until that violent encounter in 1968.
Essentially, any "conversion" truly affected a real change in the manner and intensity of life in the world for me. Yes…the swimming accident was central to any "conversion;" but it is a great mystery as to how much of "an accident" the episode really was.
Fr. Peter Smith is the Priest of St. Mary of Egypt Church in Norcross (Atlanta), GA.