Dairy farmer's highly unusual conversion results in excommunication from his church, community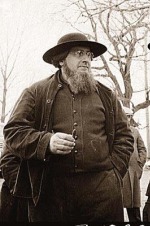 by Jim Carney
Josef Klarr wanted to know about the origins of the Christian church.
Klarr, 39, grew up Old Order Amish in Ashland County and began studying the roots of the church.
He went to the library at the Ashland Theological Seminary and read book after book when he wasn't working on his farm milking cows or cutting wood at the saw mill.
A major influence in his reading was the writings of St. Basil the Great.
"I fell in love with him," he said.
Klarr visited a Greek Orthodox monastery, St. Gregory Palamas Monastery near Mansfield, and attended an Easter service, called Pascha in the Orthodox church. Later, he spent seven hours meeting with Metropolitan Maximos, the Greek Orthodox bishop of Pittsburgh, who drove from Pittsburgh to Klarr's home for the visit. His continuing studies and the lengthy session with Maximos brought him to the Eastern Orthodox Church, to which he converted in 1991. While Klarr's conversion from the Amish faith may be unusual, his decision mirrors that of thousands flocking to Orthodox churches locally and around the country.
Orthodox churches are distinctive because of the icons on display — images of Christ and saints and angels, which Orthodox believers call  'windows to heaven.'
Klarr's wife, Ada, whose father is an Old Order Amish bishop, converted next. The couple has five children.
He attended Christ the Savior Seminary in Johnstown, Pa., graduating in May of this year. He was a subdeacon in the Greek Orthodox church for 3 1/2 years. And this August, he was ordained as a priest in the Ukrainian Orthodox church. He said the Orthodox church is an apostolic church — one which literally follows the teachings of the disciples of Jesus.
"A person from the second century could walk into the church and recognize it," he said.
What is appealing about the Orthodox church, he said, "is it stands up to American culture and says, `No, you are not No. 1 in our lives.' '
Klarr still has the appearance of an Amish man, replete with a long beard and the round, black hat he wears regularly. He plans to start an Amish Orthodox church in Indiana, Pa., where he will move later this month to work as a chaplain for the Eastern Orthodox Foundation. Father George Hnatko, executive director of the foundation, said that as far as he knows, Father Klarr is the first Amish person to ever become a Ukrainian Orthodox priest.
"I think he will do well,"
said Hnatko, who oversees the organization that is a personal care, transitional living and homeless shelter in Indiana, Pa.
"We are happy to have him and pray the Lord will bless him in his new endeavors."
Klarr said several Amish families from Tennessee have expressed an interest in joining the community in Pennsylvania.
His conversion to the Orthodox church has resulted in his excommunication from the Amish church and community. Many members of his family shun him and no longer speak to him.
But in spite of the loss of some immediate families, his movement into the Eastern Orthodox community, he said, has given him a much larger Christian family. He and his family live in a rented house with electricity in Youngstown now and he drives a minivan. But after getting settled in Pennsylvania, he said, his family will resume living their Amish lifestyle and will begin dairy farming in a house without electricity.
The Gospel, he said, says to not conform with the world. Since becoming Orthodox, Klarr said, he feels comfortable and relaxed.
"It is the satisfaction of being totally satisfied spiritually,'" he said. "I didn't feel complete when I was Amish."