Part Four from the "Becoming Orthodox" blog.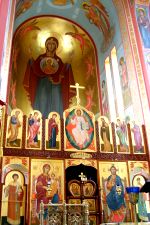 Christ did not found a philosophical movement called Christianity, he founded His Church.
Then he said that the gates of Hell would not overcome it.
From the Orthodox Wiki:
The traditional belief in the Church is attested to in the Nicene-Constantinopolitan Creed as the one, holy, catholic and apostolic Church. By this phrase is meant that the Church is undivided and not many (one), sanctified and set apart for the work of God (holy), whole and characterized by fullness and universality (catholic), and has at its essence the going out into all the world to preach the Gospel and baptize the nations (apostolic).

Because the Church, it is the Body of Christ, it is also the temple and dwelling place of the Holy Spirit. It is a continued Pentecost.

The Church is the Bride of Christ, the eschatological spouse of the Son of God, united to him in faith and love, for which he gave himself up on the cross. The intimacy of a husband and wife is an earthly image of the intimacy that Christ has with his Church, and the union of an earthly marriage is a shadow of the union of that marriage of the Lamb of God with the Church.

The Orthodox see the Church as a mystical organism, not an organization of like thinking people. In the Church is the community where man is what he is created to be and can grow for eternity in divine life in communion with God through Christ in the Holy Spirit. The unity of the Church is not broken by time or space and is not limited merely to those alive upon the earth. The unity of the Church is the unity of the Blessed Trinity and of all of those who live with God: the holy angels, the righteous dead, and those who live upon the earth according to the commandments of Christ and the power of the Holy Spirit.

The community of the Church is the locus of salvation for mankind; it is truly the Ark in which mankind may be saved from the flood of corruption and sin. In it, Christians sacramentally work out their salvation with fear and trembling (Phil. 2:12), worshipping the Holy Trinity in spirit and in truth.

The Church is the pillar and ground of truth (I Tim. 3:15) and thus may be relied upon in the Christian's struggle to apprehend the one truth for himself. The Church is eternal, and the gates of Hell will never prevail against it (Matt. 16:18).