Part Three from the "Becoming Orthodox" blog.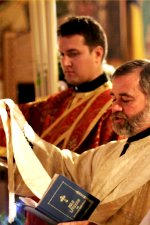 When my husband and I first learned about Orthodoxy we initially brushed it aside as "too Catholic." We saw pictures of Divine Liturgy at a nearby parish and I told him in an email
"Don't think I could get into this. Maybe I could if I lived in Europe and had an old-world kind of lifestyle."
The pomp and circumstance of the Liturgy just seemed so far from what I was accustomed to in my modern suburban life. As a Protestant I couldn't relate to a style of worship that contained anything visually ornate.
We had read a lot about Orthodoxy and I think we could have continued down the path of mere scholarship for quite a long time, but several different people gave us the advice to jump right in by attending Liturgy. Divine Liturgy is meant to be experienced, and we were going to miss the main event if we only focused on scholarly pursuits.
I became determined to visit. David also wanted to visit but he was nervous – mostly afraid of the unknown of a new situation or of making a faux pas. We decided to attend a nearby parish that a friend had visited before. As we pulled into the parking lot, we were a bit nervous. As we made the decision to get out of the car, we were still nervous. As we stood inside the building but just outside the temple, we were really nervous!
We had read Frederica's 12 Things I Wish I'd Known and it was extremely helpful but we still weren't entirely sure what to expect. We stood in the narthex for a minute or two, undoubtedly looking completely bewildered. A nice lady saw us and before we knew it we were inside the temple and observing our first Liturgy.
The next week we decided to try a different parish (OCA). We've been going back ever since.
If you are looking into Orthodoxy, you really must attend Liturgy. The Orthodox Church is so amazingly rich and you are doing yourself a disservice by not attending Divine Liturgy. If you are nervous like we were – don't be! You can duck into the back of the temple and stand to the side and be completely anonymous if you would like. Just soak it all in. The next time you visit, you might want to look around and see if there is a copy of the printed version of the Liturgy. It is immensely helpful to be able to read along – so much is happening during Liturgy, it is easy to miss some of the words.
After our first Liturgy, David commented that it was almost hard to believe that this was the same religion that we had grown up in. Divine Liturgy was so different from anything that we had experienced. As the weeks and months pass by, we continue to be drawn to Orthodoxy both in scholarship and in practice.
If you have not yet attended Liturgy, please consider doing so soon!
[Editor's note: Having a printed version of the Divine Liturgy is, indeed, very helpful. We recommend this book for inquirers:

DIVINE LITURGY: A Student Study Text

The complete Liturgy of St. John Chrysostom with Scriptural references and Patristic Commentary.

Available from Amazon here.

See a preview at the publisher's page here.]