by Fr. Aleksander Kobesi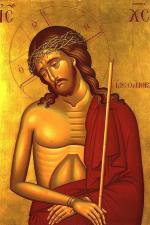 This comes to us from the Indonesian Orthodox Church in Bali. You can find the original article here.
I and my family are converts to the Orthodox faith. I was born and raised as a Roman Catholic. By the Grace of God, I was ordained to be an Orthodox priest on June, 27th, 2009 in Holy Trinity Church of Solo-Central Java by Metropolitan HILARION. I was assigned by Fr. Daniel Byantoro, with the blessing of His Eminence, to serve the new missionary community in Bali, Indonesia. I am married; my wife's name is Mary Victory. We have two daughters, Mary Grace, six years old, and Grecent of Myra,two years old.
Although Indonesia is a predominantly Muslim country, Bali has a Hindu majority. They are open to Christianity. The Christian faith can be preached, and a Christian community can grow anywhere on the island. Bali is a famous destination for world tourism. Bali is beautiful; it has beautiful mountains, beach views, and a unique cultural manifestation; such as the "Ngaben" cremation religious ritual.
There are already 28 Orthodox faithful at Denpasar, South of Bali; 14 at Singaraja , North of Bali; and 27 Orthodox sympathizers at Banjar, 28 km of west of Singaraja. They are poor families. We do not yet own a church building.
Every Sunday, we conduct Divine Liturgy with 8 -10 members at our home in Singaraja.
Every Wednesday, I visit all my communities in our parish. I go to Denpasar, 80 km from Singaraja; to Banjar village, 28 km of West of Singaraja; and to Bungkulan village, 14 km East of Singaraja. Long distance trips are by a rental motorcycle or by public transportation, since I do not own a motorcycle. Every Friday, I have a Bible Study program with the youth. We have six boys, ages 16-18 years, from small villages west and east of Singaraja who take part in the Bible Study. Usually, I pick them up one by one on my rented motorcycle.
The Bali Orthodox mission is to promote the Orthodox faith to the Balinese, by adopting both its social and cultural activities and expressions. For example, every Sunday our congregations wear Balinese traditional costumes. Beside that, I have translated Byzantine musical notation to musical notation of the Indonesian system, in which notes are assigned numbers (e.g. do=1, re=2 etc). I did this project in order that our congregations could understand the Divine Liturgy.
I am sure and believe strongly that Christ through our Orthodox Mission will be able to grow well on this island in the future. Thank you for your attention and please remember us in your prayers.
In Christ,
Fr. Aleksander Kobesi