by Daniel Polson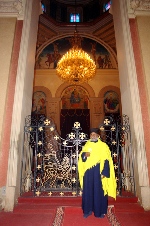 From early childhood, I was taught to appreciate the Bible. Consequently, I grew with a strong love for our Saviour. So much so that sitting alone one evening after Easter, watching the sky and contemplating "The Robe", a film I had seen then, I imagined Christ's face in the clouds. I wept as gruesome scenes from the film of His passion and crucifixion flooded my mind. I was no more than ten years old at the time.
At fifteen, I embraced the Rastafarian Faith, convinced that Emperor Haile Selassie I of Ethiopia was Christ returned. In 1986, I became a member of the Twelve Tribes of Israel organisation. The teaching was different however—Christ was revealed in the personality—not the person of the Emperor. Further study of the scripture eventually reconciled me to this teaching.
Later, the Crown Prince of Ethiopia, himself an Orthodox Christian, became a member of the organization. Exiled in the West, he was studying the Rastafarian religion, but in the light of his own beliefs, he planned to establish a church on his return to Ethiopia. He encouraged us to participate in the true Church of God and so began my own research into Church history and the sacraments.
My research led me to many Orthodox websites and ultimately to that of St. Aidan's, hosted by Fr. Gregory. I had met and spoken briefly with him a few years before while working near the church. When I contacted him, Father Gregory recalled me immediately and accepted my request to attend the upcoming Pascha celebrations. After that, I began to attend services regularly and on the Feast of Pentecost, June 11, 2006, I was received into the Holy Orthodox Church.
I believe I am now better able to help Prince Yacob in his efforts to guide the Rastafari brethren into the true spiritual homeland of the Orthodox Faith.