by Alexandra Wood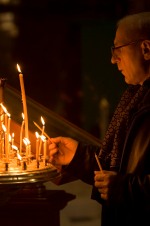 When I was a little girl it was still possible to teach Scripture in schools and even people who did not attend church were happy for their children to be taught.
I remember as a child of eight or nine that I pictured in my mind one night the Mount of Olives with a bright full moon and a grove of trees and Jesus praying.  I was very moved.
We heard "The Man Born to Be King" by Dorothy L Sayers on the radio, not the original 1940 broadcast of course!  There was a very good TV series called "Jesus of Nazareth" which was repeated several times on the BBC I think. William Barclay also was a popular broadcaster later in my teens and I owe him a lot.
I was always interested in the daily life of the people in my Scripture lessons so I became interested in the daily life of the Romans in Britain, the Ancient Britons etc. as I went up through school.  I had the advantage of living in the City of London where excavations were part of daily life.  I left school at the age of nineteen and went to the Institute of Archaeology to learn to be a Museum Technician. So, Scripture took me to archaeology.
I realised from then on that to be Christian was not fashionable among the intelligentsia and also that those who furiously spurned religion in general did not apply the same standard of proof which they demanded in their own research.
I was not impressed by the intelligentsia. Therefore, I decided to make a hypothesis that God existed. It seemed that more learned people than I could ever be had, in the past, overcome what I could perceive as "Objections to Christianity," therefore I would try to see if the orthodox teachings actually worked if taken as a practical blueprint for life. This seemed to me to be a more scientific method of assessment.
The book "Mere Christianity" by C.S. Lewis, followed by most of his other religious and ethical essays formed my mind at this time When I got to University as an adult student I found that I had to study Fine Art as part of my Prehistoric Archaeology course along with Ancient History.  These were fortunate aberrations for me as D. Talbot Rice was our Art History professor and we had to consider Icons and Byzantine history and we also found ourselves taking in Late Antiquity as we studied Post Roman / Early Christian Archaeology in Britain and Ireland with Charles Thomas. While studying the origins of the monastic movement for Late Roman Archaeology I read "The Desert Fathers"  translated by Nora Chadwick(?) and "The Desert a City" by Derwas Chitty and so came across the hermits and St Pachomius, the early British Saints and the extent of the Church in Britain and Ireland.  Edinburgh University certainly gave us a good, wide, thorough education!
When I came to New Zealand I finally found myself joining the Anglican Church in the seventies because at the time there was a very orthodox feeling to the church, at least in the parishes. I did find, though, the clergy I met strangely uneducated in early church history and about the Orthodox Church.
The New Zealand Anglican Church then went through some strange and turbulent times with the Charismatic Movement etc.etc.
I found, after a while, that it got most of my pastoral help not from sermons but from the books of John White a professor of psychiatry in Manitoba, one which I am rereading now. It is called "Flirting with the World" and is about worldliness in the church.  I also found a very sobering book called "Crumbling Foundations" by Donald G Bloesch about the death of the mainline churches in North America and the opportunity for rebirth as the original faith grounded in apostolic witness.  It seemed to mirror concerns I felt here, in New Zealand
I remained in the Anglican church because I found nowhere else to go.
A few years ago I found a book in the public library called "The Orthodox Way" by Timothy Ware and because I was still interested in Late Roman Antiquity I got it out
I read it from time to time and then came the Internet.
Through the Internet I found the British Antiochian Orthodox Church and I asked the priest at Colchester which is near my brother, Fr. Alexander Haig, if there was any Antiochian Orthodox church in New Zealand.  He surprised me by saying there was! In the end I found out where Fr Jack Witbrock was living. I also received much help from Fr Gregory Hallam in Manchester and of course there are the plethora of sites on Orthodox topics. None of this was possible before the World Wide Web.
So now I am chrismated and my patron saint is St Alexandra, wife of Diocletian.  Back to late Antiquity! My way to Orthodoxy took many turns but was aided at all times by books and broadcasting and by the Internet so it was a very personal journey, tailor-made to my circumstances.  I still continue the great experiment.
The New Zealand Antiochian church is scattered through out the land now.  You may visit this site where you will discover a lively community under the guidance of Metropolitan Paul in Australia.